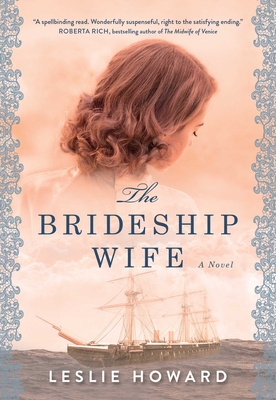 The Brideship Wife
Paperback

* Individual store prices may vary.
Description
Inspired by the history of the British "brideships," this captivating historical debut tells the story of one woman's coming of age and search for independence—for readers of Pam Jenoff's The Orphan's Tale and Armando Lucas Correa's The German Girl.

Tomorrow we would dock in Victoria on the northwest coast of North America, about as far away from my home as I could imagine. Like pebbles tossed upon the beach, we would scatter, trying to make our way as best as we could. Most of us would marry; some would not.

England, 1862. Charlotte is somewhat of a wallflower. Shy and bookish, she knows her duty is to marry, but with no dowry, she has little choice in the matter. She can't continue to live off the generosity of her sister Harriet and her wealthy brother-in-law, Charles, whose political aspirations dictate that she make an advantageous match.

When Harriet hosts a grand party, Charlotte is charged with winning the affections of one of Charles's colleagues, but before the night is over, her reputation—her one thing of value—is at risk. In the days that follow, rumours begin to swirl. Soon Charles's standing in society is threatened and all that Charlotte has held dear is jeopardized, even Harriet, and Charlotte is forced to leave everything she has ever known in England and embark on a treacherous voyage to the New World.

From the rigid social circles of Victorian England to the lawless lands bursting with gold in British Columbia's Cariboo, The Brideship Wife takes readers on a mesmerizing journey through a time of great change. Based on a forgotten chapter in history, this is a sparkling debut about the pricelessness of freedom and the courage it takes to follow your heart.
Praise For The Brideship Wife…
Praise for The Brideship Wife

"A wonderful debut. . . . This well-researched read marks the arrival of a new talent on the Canadian historical fiction scene."
— Toronto Star

"Engrossing."
— The Globe and Mail

"A beautifully told, meticulously researched story of the little-known bride ships and the courageous women on board who risked everything for freedom, then fought to get what they deserved. Debut author Leslie Howard brings history to life by masterfully weaving together the social demands of the time, the perilous journey into the unknown, the too often tragic results of colonization, and the hearts and minds of those navigating these troubled waters."
— GENEVIEVE GRAHAM, #1 bestselling author of The Forgotten Home Child

"A welcome insight into the neglected history of the marriageable women sent from England to the colonies. The protagonist, Charlotte, is a true heroine. A spellbinding read. Wonderfully suspenseful, right to the satisfying ending."
— ROBERTA RICH, bestselling author of The Midwife of Venice

"An enthralling story of a woman who leaves class-stratified, nineteenth century London society for the distant west coast of Canada, where our protagonist, Charlotte, hopes to find a husband, but through Howard's incredible research, we experience numerous aspects of the new world. Charlotte's concern for justice gives the story a refreshing, revisionist feel. A thoroughly enjoyable read."
— SUZANNE DESROCHERS, bestselling author of Bride of New France

"Leslie Howard is a welcome new voice with a confident sense of story, place, and destiny in this engaging coming-of-age novel."
— ANNE GIARDINI, author of The Sad Truth About Happiness and Advice for Italian Boys

"Howard's passion for her province's history dances through her story, as she lights on the gold rush, treatment of Indigenous Peoples, local politics, and medical developments against a vividly described background. She takes on heavy themes of sex, class, racial discrimination, and women's rights and freedoms. Yet her novel remains easily readable, entertaining and informative."
— Winnipeg Free Press
Simon & Schuster, 9781508259350, 400pp.
Publication Date: May 5, 2020
About the Author
Leslie Howard is the instant bestselling author of The Brideship Wife. She grew up in Penticton, British Columbia, where she developed a passion for the province's history. A graduate of Ottawa's Carleton University in economics and political science, she now divides her time between Vancouver and Penticton, where she and her husband grow cider apples. Connect with her on Twitter @AuthorLeslieH or on her website LeslieHoward.ca.
or
Not Currently Available for Direct Purchase