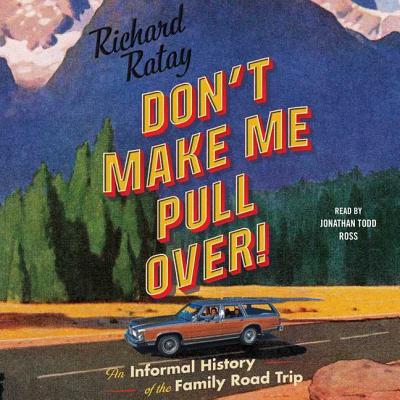 Don't Make Me Pull Over!
An Informal History of the Family Road Trip
Compact Disc

* Individual store prices may vary.
Other Editions of This Title:
Digital Audiobook (7/2/2018)
Digital Audiobook (7/2/2018)
Paperback (5/14/2019)
Hardcover (7/3/2018)
Description
Part pop history and part whimsical memoir in the spirit of National Lampoon's Vacation-Don't Make Me Pull Over is a nostalgic look at the golden age of family road trips-a halcyon era that culminated in the latter part of the twentieth century, before portable DVD players, iPods, and Google Maps.
In the days before cheap air travel, families didn't so much take vacations as survive them. Between home and destination lay thousands of miles and dozens of annoyances, and with his family Richard Ratay experienced all of them-from being crowded into the backseat with noogie-happy older brothers, to picking out a souvenir only to find that a better one might have been had at the next attraction, to dealing with a dad who didn't believe in bathroom breaks.
The birth of America's first interstate highways in the 1950s hit the gas pedal on the road trip phenomenon and families were soon streaming-sans seatbelts -to a range of sometimes stirring, sometimes wacky locations. Frequently, what was remembered the longest wasn't Mount Rushmore, Yellowstone, or Disney World, but such roadside attractions as The Thing in Texas Canyon, Arizona, or The Mystery Spot in Santa Cruz, California. In this road tourism-crazy era that stretched through the 1970's, national parks attendance swelled to 165 million, and a whopping 2.2 million people visited Gettysburg each year, thirteen times the number of soldiers who fought in the battle.
Now, decades later, Ratay offers a paean to what was lost, showing how family togetherness was eventually sacrificed to electronic distractions and the urge to get there now. In hundreds of amusing ways, he reminds us of what once made the Great American Family Road Trip so great, including twenty-foot land yachts, oasis-like Holiday Inn Holidomes, Smokey-spotting Fuzzbusters, twenty-eight glorious flavors of Howard Johnson's ice cream, and the thrill of finding a good buddy on the CB radio.
A rousing Ratay family ride-along, Don't Make Me Pull Over reveals how the family road trip came to be, how its evolution mirrored the country's, and why those magical journeys that once brought families together-for better and worse-have largely disappeared.
Simon & Schuster Audio, 9781508263791
Publication Date: July 3, 2018
or
Not Currently Available for Direct Purchase