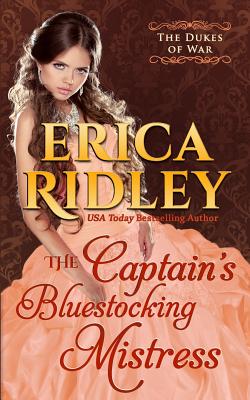 The Captain's Bluestocking Mistress (Paperback)
Createspace, 9781508541684, 164pp.
Publication Date: February 19, 2015
Description
Enjoy the witty, emotional second book in USA Today bestselling author Erica Ridley's new Dukes of War regency romance series Captain Xavier Grey's body is back amongst the beau monde, but his mind cannot break free from the horrors of war. His friends try to help him find peace. He knows he doesn't deserve it. Just like he doesn't deserve the attentions of the sultry bluestocking intent on seducing him into bed... Spinster Jane Downing wants off the shelf and into the arms of a hot-blooded man. Specifically, the dark and dangerous Captain Grey. She may not be destined to be his wife, but nothing will stop her from being his mistress. She could quote classical Greek by the age of four. How hard can it be to learn the language of love?
About the Author
Erica Ridley is a USA Today best-selling author of historical romance novels. Her latest series, The Dukes of War, features roguish peers and dashing war heroes who return from battle only to be thrust into the splendor and madness of Regency England. When not reading or writing romances, Erica can be found riding camels in Africa, zip-lining through rainforests in Costa Rica, or getting hopelessly lost in the middle of Budapest.
Advertisement