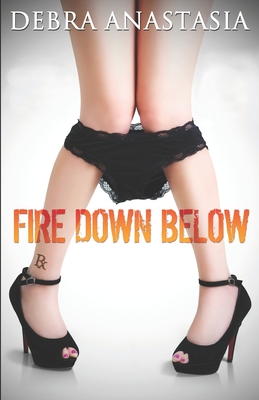 Fire Down Below (Paperback)
Createspace Independent Publishing Platform, 9781508589600, 256pp.
Publication Date: February 23, 2015
* Individual store prices may vary.
Description
Dove Glitch is embarrassed about everything above her knees and below her belly button. When she has to fill a delicate, embarrassing prescription the last thing she needs is a sexy-as-hell (and brand spanking new) pharmacist behind the counter. Johnson Fitzwell's first day of his dream career also happens to coincide with the exact moment Dove needs her feminine meds filled. His glorious voice is way too loud-as in, he should be counting down the hits with Ryan Seacrest kind of loud. Thanks to Johnson's handsome face and gorgeous jaw line, Dove dives headlong into her waking nightmare and asks for a vagina-scented cream. How could she not fall for him? Dove's only active goal now is to get Johnson to kiss her right on the lips. Either set. However, his horrible girlfriend is one of many obstacles preventing her from making that fantasy a reality. When Dove defends Johnson in the most unhygienic, unconventionally gross way in the middle of a crowded restaurant, their tender, slightly tantric relationship is off to a galloping, farting start. Each print copy of this book will be dipped in holy water by my mom, and glared at by my father as he purses his lips. Neither will help. So, drop your pants and turn to the left and cough. I hope you're not allergic to latex, because it's time to fill your prescription. Anally. Praise for Fire Down Below: "I'd like to remove myself from this spam list." Teresa Mummert NYT Bestselling Author "No." Jamie McGuire #1 NYT Bestselling Author "Do not read her next book. Trust me." Colleen Hoover #1 NYT Bestselling Author "I have not read this book." Aesta's Book Blog "If this book is anything like her crazy tweets, then we are too scared to read it." The Rock Stars of Romance Book Blog "Debra is the queen of s@ ts and giggles." Tijan NYT Bestselling Author "Crap. Why won't you go away?" K.A. Robinson NYT Bestselling Author "You couldn't pay me enough." Tara Sue Me NYT Bestselling Author "You can't be serious." JM Darhower USA Today Bestselling Author "That's a big, tall glass of nope." Angie Lynch CEO and President of Shameless Book Club "This book is about as cringe-worthy as a raging UTI." Helena Hunting Amazing Author "This book gave my vagina nightmares for a week. What the hell was Debra thinking? " Leisa Rayven Amazing Author "I like to read Debra's work on the crapper in case I run out of toilet paper." CJ Roberts NYT Bestselling Author "I've had the worst gas since I read Debra Anastasia's latest. Rip, full, wretched gas that singes my butt hairs on the way out. A week later I'm still walking funny." Kendall Grey Amazing Author "This cover gives me vaginal discomfort. Someone pass the Monistat." Tara Sivec NYT Bestselling Author "I might read this book if I wasn't so afraid of catching something." Tina Reber NYT Bestselling Author "It itches so bad." Ella Fox USA Today Bestselling Author "Can I un-read this? No? Do you have holy water so I can wash my eyes?" - King Midian "Is this the gas lady with the flatulence problem that can do the bubble tricks with her vagina?" Totally Booked Blog "Never Again. Disappointed And just like Tony, I don't like to be disappointed." Aleatha Romig NYT Bestselling Author "Penivores and Vagitarians both agree. It made them vomit a little in their mouths." Georgia Cates NYT Bestselling Author "This book smells like grilled cheese and sadness." Mary Elizabeth Amazing Author "Enough to cause a burning ring of fire. Please Debra...just stop " Belle Aurora USA Today Bestselling Author "The only way fire should be associated with this book is if it was actually on fire. Burning in my fireplace." Jillian from Read-Love-Blog "Who is this woman and why is she talking to me?" Tabatha Vargo NYT Bestselling Author "Is she writing about hairy vaginas or explosive diarrhea?" Neda from The Sub Club "This book caused my anus to grow a steel-plated hymen." Shay Savage USA Today "Save your receipt." Liv Morris Ama.
About the Author
There are a lot of eyes in Debra Anastasia's house in Maryland. First, her own creepy peepers are there, staring at her computer screen. She's made two more sets of eyes with her body, and the kids they belong to are amazing. The poor husband is still looking at her after 17 years of marriage. At least he likes to laugh. Then the freaking dogs are looking at her-six eyeballs altogether, though the old dog is blind. And the cat watches her too, mostly while knocking stuff off the counter and doing that internal kitty laugh when Deb can't catch the items fast enough. In between taking care of everything those eyes involve, Debra creates pretend people in her head and paints them on the giant, beautiful canvas of your imagination. What an amazing job that is. The stories hit her hard while driving the minivan or shaving her legs, especially when there's no paper and pen around. In all of the lies she writes hides her heart, so thank you for letting it play in your mind. Debra has a smattering of books in a few genres. There are two in the Seraphim Series and three in the Poughkeepsie Brotherhood Series with a prequel, Poughkeepsie Begins in the near future. Fire Down Below is the first in the comedic Gynzaule Series. The second, Fire in the Hole, will be published in late 2015. The Revenger, a dark paranormal romance, will debut this summer. And last, a novella called Late Night with Andres is special because 100% of the proceeds go to breast cancer research. (So go get it right now, please!) You can find her at DebraAnastasia.com and on Twitter @Debra_Anastasia, but be prepared...