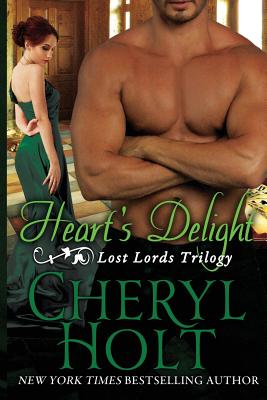 Heart's Delight (Paperback)
Createspace Independent Publishing Platform, 9781508740049, 446pp.
Publication Date: May 26, 2015
* Individual store prices may vary.
Description
Three little lost lords, cast to the winds of fate... So begins CHERYL HOLT'S breathtaking new trilogy, The Lost Lords of Radcliffe... MICHAEL SCOTT grew up an orphan on the streets of London. He has no memories of his past, but he's haunted by terrible dreams and always feels as if he lost something vital and precious along the way. Through cunning and determination, he's become rich, prosperous, and dangerous. As a brigand and criminal, he knows how to fight and survive any battle. But when he had such a rough beginning as a child, how has he managed to thrive so spectacularly? How can he ever learn the truth? MAGDALENA WELLS runs a charity mission in London's worst slums. Although she's heard many vicious rumors about treacherous, deceitful Michael Scott, when she meets him, she can't help but fall under his spell. He is the most extraordinary person she's ever encountered. If ancestry makes the man, how is she to account for his remarkable traits? His drive and accomplishments have propelled him to the highest levels of London society-which is exactly where he seems to belong. How can a ruffian be so brilliant and successful? What is his true history? Can Magdalena help to reveal the secrets he's always been dying to discover? Join CHERYL HOLT as she once again weaves a beloved tale of family, loyalty, love, and loss. As the truth about the "lost" lords is gradually revealed, readers will be cheering... Cheryl Holt...a New York Times Bestselling Author...