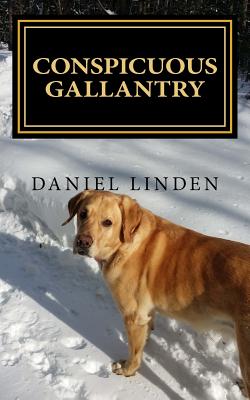 Conspicuous Gallantry (Paperback)
Createspace Independent Publishing Platform, 9781508952114, 322pp.
Publication Date: October 17, 2015
* Individual store prices may vary.
Description
Review "A powerful, unflinching examination of the psychological wages of war." - Kirkus Reviews Conspicuous Gallantry is the long-awaited sequel to The Content of Character. Charlie Cooper has returned from a hitch with the US Marine Corps in Afghanistan and is scarred so badly he calls himself a freak. He is incapable of dealing with his family and his wife Annie, and only his dog Gibbs has the power to get though his shell. His best friend died protecting Charley on the battlefield; died protecting Charley with his own body, and Charlie heard and felt every bullet that hit him and killed him. He wakes screaming, but when he tries to see his friend Victor's face... all he sees is darkness. Charlie and Amanda try to struggle on, but are only treading water. Until they hit the wall, that is, and Annie tells him she wants a divorce. Charlie will try to do anything, but he is so badly broken he feels there is no hope left. Annie calls her Aunt Amanda and asks for help and with Amanda comes David Posey, her crazy husband. David suffers from Asperger's Syndrome and is himself damaged, but David has figured out how to survive. David and Amanda come to Maine to help them. What they can do is not certain, but the relationship that develops between David and Charlie slowly seems to lift Charlie out of his shell and a discovery by Army doctors has Charlie and Annie hoping for a breakthrough that will allow them to live happily again as man and wife. As the months drag on they eventually believe there is a way out of the darkness until in one screaming moment of sheer terror Charlie remembers the final instant before his life crashed down around him. And with the revelation he begins to walk through the valley of darkness again... but this time there is a light at the end of the road. Gibbs walks by his side, and they begin...
About the Author
Daniel Linden has been writing for over 40 years and is the author of over 10 books. His work ranges from instructional books and literary novels, to mysteries. He has many hobbies, too many to mention, but most of his time is spent playing music, building mandolins, fishing, hunting, hiking, foraging for mushrooms and wild plants and caring for dogs. He lives with his wife in Florida and Maine.