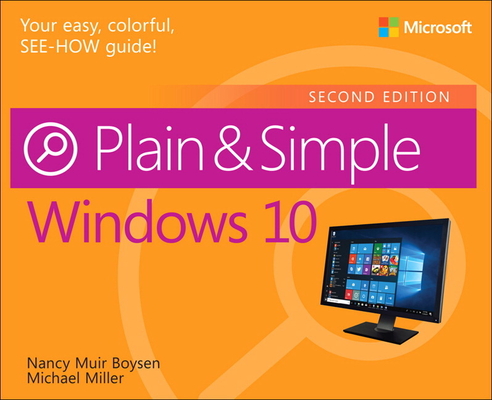 Windows 10 Plain & Simple (Paperback)
Microsoft Press, 9781509306732, 320pp.
Publication Date: April 16, 2018
* Individual store prices may vary.
Description
Learn the simplest ways to get things done with Windows 10 Here's WHAT you'll learn - Navigate Windows 10 Fall Creators Update quickly, easily, and efficiently - Get online with the sleek Microsoft Edge web browser - Make the most of the Cortana personal assistant - Efficiently manage your email, calendar, photos, and more - Access your files from anywhere with Microsoft OneDrive - Help secure your computer and protect your data
Here's HOW you'll learn - Jump in wherever you need answers - Follow easy steps and screenshots to see exactly what to do - Get handy tips for new techniques and shortcuts - Use Try This exercises to apply what you learn right away
About the Author
Nancy Muir Boysen is the author of more than 100 books on technology and other nonfiction topics. Prior to her authoring career, Nancy was a senior manager at several technology publishers as well as a training manager at Symantec. She has a Certificate in Distance Learning Design from the University of Washington, and has taught Internet safety and technical writing at the university level. Michael Miller is a popular and prolific writer. He has written more than 200 books over the past three decades, on a variety of topics from computers to music to business, for audiences ranging from high school seniors to seniors over 50. He is known for his casual, easy-to-read writing style and his ability to explain a wide variety of complex topics to an everyday audience. Collectively, his books have sold more than a million copies worldwide. His best-selling technology-related books include Computer Basics: Absolute Beginner's Guide, Easy Computer Basics, How Microsoft Windows Vista Works, Microsoft Windows XP for Home Users, My Smart Home for Seniors, My Social Media for Seniors, My Windows 10 Computer for Seniors, Using Microsoft Windows 95, and Windows 7 Your Way. Learn more about Michael Miller and his books at www.millerwriter.com. His Twitter handle is @molehillgroup.