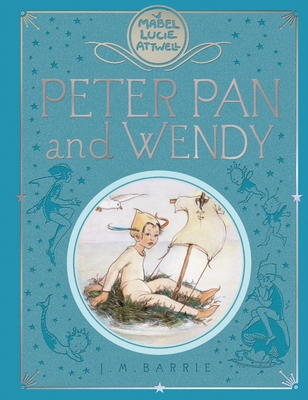 Peter Pan and Wendy (Hardcover)
Macmillan Children's Books, 9781509830343, 192pp.
Publication Date: October 1, 2017
Other Editions of This Title:
Hardcover, Abridged (5/1/2018)
Paperback, Abridged (1/1/2019)
* Individual store prices may vary.
Description
J. M. Barrie's Peter Pan is a thrilling adventure for all ages—the story of the boy who refuses to grow up is a tale that never gets old. It follows the Darling children, Wendy, John and Michael, who befriend the magical Peter and are whisked away to Neverland, where the villainous Captain Hook and the brave Lost Boys await. Mabel Lucie Attwell's gentle illustrations and distinctive style have been the nursery staple of generations of children. Her illustrated edition of May Byron's abridged Peter Pan and Wendy was first published in 1921. Macmillan is proud to return Mabel Lucie Attwell's interpretation to print in a beautiful hardback gift edition, featuring original full-color plates and line artwork, as well as several pages at the end with information on Barrie.
About the Author
Mabel Lucie Attwell (1879-1964) was a much loved British illustrator whose artwork holds a unique appeal to both children and adults. A huge commercial success during her lifetime, her illustrations are familiar from stories such as Alice in Wonderland, Peter Pan and Wendy and The Water Babies, each recognized and loved as nursery classics around the world.