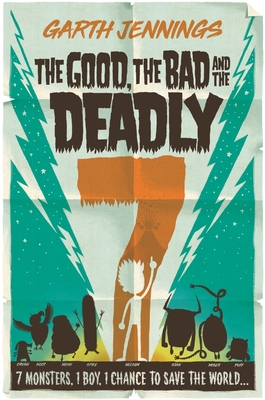 The Good, the Bad, and the Deadly 7 (Paperback)
Macmillan UK New Writing, 9781509887651, 256pp.
Publication Date: August 8, 2019
* Individual store prices may vary.
Description
The Good, the Bad and the Deadly 7 is a funny, action-packed, exciting monster adventure by the director of Sing, Garth Jennings. Having seven invisible monsters to hang out with during the summer holidays is pretty great, but now it's time to go back to school, and if Nelson's not careful, the Deadly 7 are going to get him into serious trouble. The monsters agree to stay away (and hang out in London Zoo), but there's one problem: something huge and invisible has started rampaging through the French countryside and it looks like Nelson and his monsters might be the only ones who can help. Who better to stop one enormous terrifying monster than seven little angry, sneaky, greedy, vain, adorable, thieving, farting monsters? That's right, Stan, Puff, Nosh, Miser, Hoot, Crush and Spike are here to save the day!
About the Author
Garth Jennings is one third of the production company Hammer & Tongs. His work includes videos for Blur, Radiohead, Beck, Fatboy Slim, and Vampire Weekend. He is the director of two feature films, The Hitchhiker's Guide to the Galaxy and Son of Rambow, for which he also wrote the screenplay. He directed Sing, a feature-length animated film from the studio that created Despicable Me, and is the author of The Deadly 7 and The Wildest Cowboy.
Praise For The Good, the Bad, and the Deadly 7…
"A fantastic new voice in middle grade fiction. I loved it!" —Robin Stevens, author, Murder Most Unladylike
"Packed with the sort of perilous adventure and icky humour that 9+ kids will love." —Independent on The Deadly 7
"Anarchic, original, hilarious fun." —Metro on The Deadly 7
"A zany page-turner." —Observer on The Deadly 7
"Garth's debut children's novel exudes so much confidence and bravura. . . Nelson's seven monsters are inspired comic creations, and readers will thoroughly enjoy this nutty adventure. Garth Jennings has illustrated the book too and there are numerous black and white line illustrations to add to the appeal. He deserves credit too for the authorial voice, an omniscient narrator that brought to mind E. Nesbit for me." —Books For Keeps on The Deadly 7
"Written with style and boundless imaginative power, and illustrated throughout by the author, The Deadly 7 are simply drop-dead fantastic!" —Lancashire Evening Post on The Deadly 7
"An uproarious romp, and though the Seven would deny it, the book has a heart too." —The Bookbag on The Deadly 7
"The Deadly 7 is one of the cleverest and funniest middle grade books you will read this year." —BookZone4Boys on The Deadly 7
"Highly imaginative and wonderfully told." —Parents In Touch on The Deadly 7
or
Not Currently Available for Direct Purchase