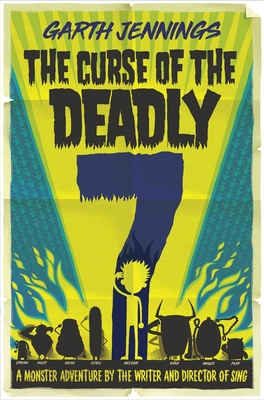 The Curse of the Deadly 7 (Paperback)
Macmillan Children's Books, 9781509899357, 256pp.
Publication Date: September 1, 2020
* Individual store prices may vary.
Description
Nelson Green has learned to live with the seven stinky monsters that were extracted from his soul. Sure, they sometimes get up to mischief and land him in trouble, but at least he hasn't had to fight any giant angry abominations in a while. But something still isn't right. Nelson's hair hasn't grown a single millimeter since the monsters were created. He hasn't got any taller, and his chewed off fingernails aren't growing back. Something strange is happening, and the Deadly 7 know more than they're letting on . . . But then someone else finds the soul extractor—someone with a grudge against Nelson. Soon Nelson has more to worry about than his fingernails: there's an army of angry monsters coming to get him, and his own monsters might not be there to help
About the Author
Garth Jennings is one third of the production company Hammer & Tongs. His work includes videos for Blur, Radiohead, Beck, Fatboy Slim, and Vampire Weekend. He is the director of two feature films, The Hitchhiker's Guide to the Galaxy and Son of Rambow, for which he also wrote the screenplay. He directed Sing, a feature-length animated film from the studio that created Despicable Me, and is the author of The Deadly 7 and The Wildest Cowboy.
Praise For The Curse of the Deadly 7…
"A fantastic new voice in middle grade fiction. I loved it!" —Robin Stevens, author, Murder Most Unladylike
"Packed with the sort of perilous adventure and icky humour that 9+ kids will love." —Independent on The Deadly 7
"Anarchic, original, hilarious fun." —Metro on The Deadly 7
"A zany page-turner." —Observer on The Deadly 7
"Garth's debut children's novel exudes so much confidence and bravura. . . Nelson's seven monsters are inspired comic creations, and readers will thoroughly enjoy this nutty adventure. Garth Jennings has illustrated the book too and there are numerous black and white line illustrations to add to the appeal. He deserves credit too for the authorial voice, an omniscient narrator that brought to mind E. Nesbit for me." —Books For Keeps on The Deadly 7
"Written with style and boundless imaginative power, and illustrated throughout by the author, The Deadly 7 are simply drop-dead fantastic!" —Lancashire Evening Post on The Deadly 7
"An uproarious romp, and though the Seven would deny it, the book has a heart too." —The Bookbag on The Deadly 7
"The Deadly 7 is one of the cleverest and funniest middle grade books you will read this year." —BookZone4Boys on The Deadly 7
"Highly imaginative and wonderfully told." —Parents In Touch on The Deadly 7