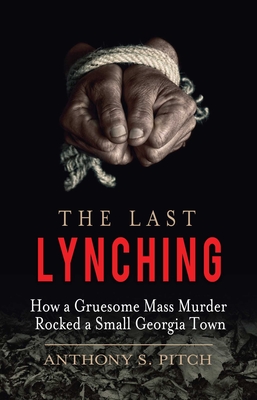 The Last Lynching (Hardcover)
How a Gruesome Mass Murder Rocked a Small Georgia Town
Skyhorse, 9781510701755, 244pp.
Publication Date: March 22, 2016
Other Editions of This Title:
MP3 CD (7/18/2017)
* Individual store prices may vary.
Description
Nothing casts a more sinister shadow over our nation's history than the gruesome lynchings that took place between 1882 and 1937, claiming 4,680 victims. During incidents of racist violence, lynchers tortured their victims before murdering them. Most killers were never brought to justice.

In 1946, the bodies of two men and two women were found near Moore's Ford Bridge in rural Monroe, Georgia. Their killers were never identified. And although the crime reverberated through the troubled community, the corrupt courts, and eventually the whole world, many details remained unexplored—until now.

In The Last Lynching, Anthony S. Pitch reveals the true story behind the last mass lynching in America in unprecedented detail. Drawing on some ten thousand previously classified documents from the FBI and National Archives, The Last Lynching paints an unflinching picture of the lives of the victims, suspects, and eyewitnesses, and describes the political, judicial, and socioeconomic conditions that stood in the way of justice. Along the way, The Last Lynching sheds light into a dark corner of American history, which no one can afford to ignore.

Skyhorse Publishing, as well as our Arcade imprint, are proud to publish a broad range of books for readers interested in history--books about World War II, the Third Reich, Hitler and his henchmen, the JFK assassination, conspiracies, the American Civil War, the American Revolution, gladiators, Vikings, ancient Rome, medieval times, the old West, and much more. While not every title we publish becomes a New York Times bestseller or a national bestseller, we are committed to books on subjects that are sometimes overlooked and to authors whose work might not otherwise find a home.
About the Author
Anthony S. Pitch is the author of "They Have Killed Papa Dead!" on the Lincoln assassination, The Burning of Washington: The British Invasion of 1814, and Our Crime Was Being Jewish. A journalist on four continents, he has appeared on C-SPAN TV, the History Channel, National Geographic TV, Book TV, NPR, and PBS. He lives in Potomac, Maryland.
Praise For The Last Lynching: How a Gruesome Mass Murder Rocked a Small Georgia Town…
"The Last Lynching delivers an eye-opening reminder of ongoing bigotry." —Kirkus

"Pitch (The Burning of Washington) makes good use of almost 10,000 official documents from the FBI and the National Archives to reconstruct the tragic events that led to the 1946 murders of four African-Americans on a bridge in rural Georgia…The history of the push for federal anti-lynching laws, the racist opposition to such legislation in Congress, and current attempts to commemorate the tragedy place the narrative of the probe in a broader context of racism as it exists in small-town communities today." —Publishers Weekly

"Amazing research on the barbarity of Jim Crow South and vigilante justice." —Morris Dees, cofounder and chief trial counsel, Southern Poverty Law Center

"Anthony Pitch's The Last Lynching tells a haunting story that, sadly, looks more relevant and new all the time." —Jeffrey Toobin, CNN senior legal analyst and author of The Oath and The Nine

"A page-turner with a shudder and a message. . . . The four African American victims had no constitutional protections, due process of law, mercy, or witnesses. It was a cold-blooded massacre that must never happen again." —Nadine Strossen, immediate past president, American Civil Liberties Union

"The Last Lynching delivers an eye-opening reminder of ongoing bigotry." —Kirkus

"Pitch (The Burning of Washington) makes good use of almost 10,000 official documents from the FBI and the National Archives to reconstruct the tragic events that led to the 1946 murders of four African-Americans on a bridge in rural Georgia…The history of the push for federal anti-lynching laws, the racist opposition to such legislation in Congress, and current attempts to commemorate the tragedy place the narrative of the probe in a broader context of racism as it exists in small-town communities today." —Publishers Weekly

"Amazing research on the barbarity of Jim Crow South and vigilante justice." —Morris Dees, cofounder and chief trial counsel, Southern Poverty Law Center

"Anthony Pitch's The Last Lynching tells a haunting story that, sadly, looks more relevant and new all the time." —Jeffrey Toobin, CNN senior legal analyst and author of The Oath and The Nine

"A page-turner with a shudder and a message. . . . The four African American victims had no constitutional protections, due process of law, mercy, or witnesses. It was a cold-blooded massacre that must never happen again." —Nadine Strossen, immediate past president, American Civil Liberties Union