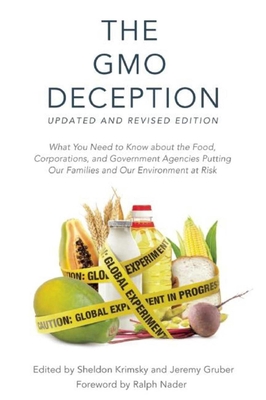 The GMO Deception (Paperback)
What You Need to Know about the Food, Corporations, and Government Agencies Putting Our Families and Our Environment at Risk
Skyhorse, 9781510702660, 440pp.
Publication Date: April 12, 2016
Other Editions of This Title:
Hardcover (6/3/2014)
* Individual store prices may vary.
Description
Seventy-five percent of processed foods on supermarket shelves—from soda to soup, crackers to condiments—contain genetically engineered ingredients. The long-term effects of these foods on human health and ecology are still unknown, and public concern has been steadily intensifying.

This new book from the Council for Responsible Genetics gathers the best, most thought-provoking essays by the leading scientists, science writers, and public health advocates. Collectively, they address such questions as:
Are GM foods safe and healthy for us?
Will GM food really solve world hunger?
Are GM foods ecologically safe and sustainable?
Should animals be genetically modified for food?
Ultimately, this definitive book encourages us to think about the social, environmental, and moral ramifications of where this particular branch of biotechnology is taking us, and what we should do about it.
About the Author
Sheldon Krimsky is the Carol Zicklin Visiting Professor of Philosophy at Brooklyn College, the Lenore Stern Professor of Humanities and Social Sciences at Tufts University, and adjunct professor in the Department of Public Health and Community Medicine at the School of Medicine at Tufts University. He lives in New York City and Cambridge, Massachusetts.