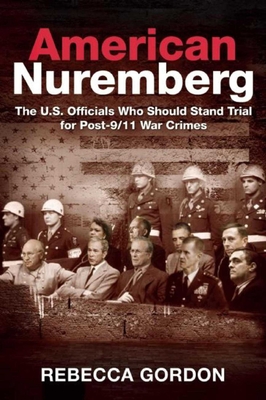 American Nuremberg (Hardcover)
The U.S. Officials Who Should Stand Trial for Post-9/11 War Crimes
Hot Books, 9781510703339, 176pp.
Publication Date: April 5, 2016
Other Editions of This Title:
MP3 CD (10/25/2016)
* Individual store prices may vary.
Description
No subject is more hotly debated than the extreme measures that our government has taken after 9/11 in the name of national security. Torture, extraordinary rendition, drone assassinations, secret detention centers (or "black sites"), massive surveillance of citizens. But while the press occasionally exposes the dark side of the war on terror and congressional investigators sometimes raise alarms about the abuses committed by U.S. intelligence agencies and armed forces, no high U.S. official has been prosecuted for these violations – which many legal observers around the world consider war crimes.

The United States helped establish the international principles guiding the prosecution of war crimes – starting with the Nuremberg tribunal following World War II, when Nazi officials were held accountable for their crimes against humanity. But the American government and legal system have consistently refused to apply these same principles to our own officials. Now Rebecca Gordon takes on the explosive task of "indicting" the officials who – in a just society – should be put on trial for war crimes. Some might dismiss this as a symbolic exercise. But what is at stake here is the very soul of the nation.
About the Author
Rebecca Gordon is the author of Mainstreaming Torture, which has been hailed as a "morally challenging" and "courageous work" that reveals how torture has been "sanitized" in America. She teaches philosophy at the University of San Francisco. Prior to her academic career, Gordon spent decades working as an activist in peace and justice movements in Central America, South Africa and the United States. She lives in San Francisco.
Praise For American Nuremberg: The U.S. Officials Who Should Stand Trial for Post-9/11 War Crimes…
Praise for American Nuremberg:

"In American Nuremberg [Gordon] trades academic nuance for a plainspoken, even folksy, prose style. The effect is to present damning legal arguments as common moral sense. The book is eminently valuable in distinguishing the categories of potential crimes and the national and international laws relevant to them." --Jeremy Varon, Los Angeles Review of Books

Praise for Mainstreaming Torture:

"Gordon's terrific 2014 book Mainstreaming Torture put her on the map as a compelling human rights advocate. The book dissects the role of political rhetoric, media discourse, popular culture, and even academic treatise in making torture (by whatever name) acceptable. It stands as an instant classic among accounts of 9/11 and its aftermath, joining the path-breaking research of Alfred McCoy, Jane Mayer, Andy Worthington, and Karen Greenberg." --Jeremy Varon, Los Angeles Review of Books

Praise for American Nuremberg:

"In American Nuremberg [Gordon] trades academic nuance for a plainspoken, even folksy, prose style. The effect is to present damning legal arguments as common moral sense. The book is eminently valuable in distinguishing the categories of potential crimes and the national and international laws relevant to them." --Jeremy Varon, Los Angeles Review of Books

Praise for Mainstreaming Torture:

"Gordon's terrific 2014 book Mainstreaming Torture put her on the map as a compelling human rights advocate. The book dissects the role of political rhetoric, media discourse, popular culture, and even academic treatise in making torture (by whatever name) acceptable. It stands as an instant classic among accounts of 9/11 and its aftermath, joining the path-breaking research of Alfred McCoy, Jane Mayer, Andy Worthington, and Karen Greenberg." --Jeremy Varon, Los Angeles Review of Books
or
Not Currently Available for Direct Purchase