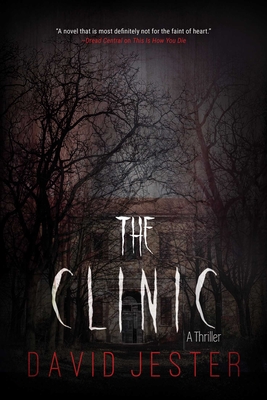 The Clinic (Paperback)
A Thriller
Skyhorse, 9781510704374, 216pp.
Publication Date: February 6, 2018
Other Editions of This Title:
Compact Disc (2/6/2018)
MP3 CD (2/6/2018)
* Individual store prices may vary.
Description
They each had their own demons to face, and none of them had much to live for. Malcolm was alone in the world, Darren might as well have been, and Eddie . . . well, Eddie wished he was. Crime wasn't a way out for them; it was just a way to survive.

But the clinic was a job too far, a risk that didn't justify the reward.

The isolated rehab clinic should have been an easy target. But this simple job would turn into a nightmare that none of the young men could have foreseen, unleashing an evil that was sown way before their time.

The Clinic is a twisted, macabre, and chilling tale told from the perspective of three delinquents, young men who never had a chance and are forced to make their own ways in life. They set their sights on an out-of-town rehab clinic, hoping to pilfer the prized possessions of rich alcoholics and addicts. But the clinic is not what they thought it was. Their plan inevitably goes awry and their night of petty crime turns into a fight for survival.

Can the boys make it out alive, and will their lifelong friendship remain intact once the truth is revealed?
About the Author
David Jester works as a freelance writer, that is, when he's not busy penning his next novel or short story. He has been writing for as long as he can remember, with his first short story published when he was eighteen and his first novel published a decade later. He's also the author of Forever After and This Is How You Die. He lives in Newcastle, England, with his wife and their pets.
Praise For The Clinic: A Thriller…
"The Clinic is one of the goriest and most ruthless books I've ever read. A blood-spattered, hurtling assault across a landscape of nonstop chaos and anarchy. Destined to have readers squirming in their seats. Terrifying from beginning to end. If you like well-written bloodshed, then this one is for you." —Willow Rose, international bestselling author of the Emma Frost series

Praise for David Jester

"A novel that is most definitely not for the faint of heart when it comes to gore." —Dread Central on This Is How You Die

"Jester has pulled off a rare thing here. He's crafted a fantasy tale drenched in biting satire, fun, darkness, but also gives us a nice touch of the feels." ?Mike McCrary author of Genuinely Dangerous and Remo Went Rogue on Forever After

"The Clinic is one of the goriest and most ruthless books I've ever read. A blood-spattered, hurtling assault across a landscape of nonstop chaos and anarchy. Destined to have readers squirming in their seats. Terrifying from beginning to end. If you like well-written bloodshed, then this one is for you." —Willow Rose, international bestselling author of the Emma Frost series

Praise for David Jester

"A novel that is most definitely not for the faint of heart when it comes to gore." —Dread Central on This Is How You Die

"Jester has pulled off a rare thing here. He's crafted a fantasy tale drenched in biting satire, fun, darkness, but also gives us a nice touch of the feels." ?Mike McCrary author of Genuinely Dangerous and Remo Went Rogue on Forever After
or
Not Currently Available for Direct Purchase