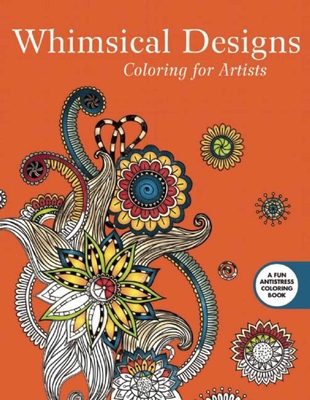 Whimsical Designs
Coloring for Artists (Creative Stress Relieving Adult Coloring)
Paperback

* Individual store prices may vary.
Other Editions of This Title:
Paperback (8/4/2015)
Description
Whimsical art encompasses various genres that span the generations. It is the art that reminds us to enjoy life and brings our inner child to the surface, inspiring awe and wonder. And now, you can create beautiful, whimsical art whenever the mood strikes you.

Whimsical Patterns and Designs: Coloring for Artists offers forty-six fully colored whimsical designs that will inspire you as you color the forty-six black-and-white templates. The designs have been created specifically for you and are perforated so that each one can be removed to be colored and displayed. So explore your creative side, and discover the relaxing benefits of coloring whimsical art.

In summary, this vibrant compilation includes:
An introduction describing the history and beauty of whimsical art
Forty-six original designs for readers to color
Black-and-white designs printed on one side of a perforated page, allowing readers to remove and frame their artwork
Forty-six full-color images that exemplify whimsical art
Skyhorse, 9781510704589, 112pp.
Publication Date: August 4, 2015
About the Author
At Skyhorse Publishing, we recognize the need at times to simply Be. Our broad range of books offer readers an escape from the daily grind to the virtual worlds of the many stories our authors tell. But how about escaping even more deeply? That's where Adult Coloring Books come in, and here is where we are dedicating ourselves to bringing you a variety of coloring books with which you can relax and lose yourselves into a meditation of creative self-expression. We invite you to check out our assorted series of Adult Coloring Books, and know that you'll find exactly what you need to bliss out.
or
Not Currently Available for Direct Purchase