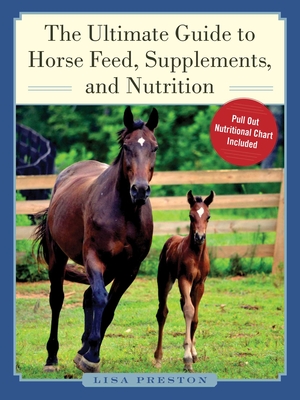 The Ultimate Guide to Horse Feed, Supplements, and Nutrition
Hardcover

* Individual store prices may vary.
Description
A comprehensive guide of the dos and don'ts of equine nutrition--featuring a full-color pull-out chart.

A primary concern of all horse owners and caregivers is that their animals receive the proper feed and in the correct amounts. In seeking information about these matters, it's easy for owners and caregivers to be lured in—and often misled—by advertisements and endorsements for vitamins, alternative medicines, and other supplementary products.
Noted equine nutritionist Lisa Preston offers solid and sensible guidance in these and other areas in her wide-reaching Ultimate Guide to Horse Feed, Supplements, and Nutrition. Among the topics she covers are:
• Formulating a correct dietary routine for your horse, pony, or mule based on such considerations as breed, age, and size, as well as locale, climate, and the activities in which they take part
• Understanding the horse's digestive system and related organs and the effects of various feeds on them
• Feed-related diseases and other ailments: their causes, prevention, and treatment
• The use and misuse of vitamins and other supplements
• Understanding your veterinarian's diagnoses, tests, and treatments
• And much more
Thoroughly researched using the latest scientific data and featuring dozens of tables, charts, and illustrations, The Ultimate Guide to Horse Feed, Supplements, and Nutrition belongs on the shelf of every horse owner.
Skyhorse, 9781510705357, 280pp.
Publication Date: July 5, 2016
About the Author
Lisa Preston turned to writing after careers as a fire department paramedic and a city police officer. She is the author of the highly acclaimed, best-selling novels, Orchids and Stone and Measure of the Moon and the Horseshoer Mystery Series. She is also the author of several non-fiction books and articles on the care and training of dogs and horses. Away from her desk, she spends hours on backcountry trails as a runner and rider, sometimes combining her two outdoor pursuits via the obscure sport of Ride and Tie. She lives with her husband, their Malinois, and two Akhal Tekes on Washington State's vast Olympic Peninsula. lisapreston.com
or
Not Currently Available for Direct Purchase