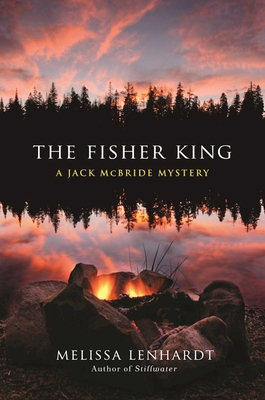 The Fisher King (Hardcover)
A Jack McBride Mystery
Skyhorse, 9781510707290, 380pp.
Publication Date: November 1, 2016
Other Editions of This Title:
Paperback (2/5/2019)
* Individual store prices may vary.
Description
When the dust settles in this Texas town, who will be left standing?

It's been six weeks since Jack McBride's life went to hell: the resolution of his first case as chief sparked a countywide drug war, his brother Eddie rode into town with a pocket full of cocaine and trouble on his mind, his estranged wife returned from her one-year sabbatical determined to win him back, and Ellie Martin ended their brief affair.

To the Stillwater natives, the increase in local crime can be traced directly back to the day the outsider McBride took the job, and they're gunning to get rid of him. One particular group is led by Joe Doyle, a successful local businessman who's running for city council against Ellie and her plan to revitalize downtown. Now Jack has discovered proof Doyle is the biggest crime lord in the county, and, with murders piling up and the drug war intensifying, Jack suspects the crimes aren't business, but personal—and he's the target.

The bitter election and Jack's investigation spark old rivalries and new jealousies, making Ellie and those who love Stillwater most wonder if it's even worth saving.
About the Author
Melissa Lenhardt writes mystery, historical fiction, and women's fiction. Her debut novel, Stillwater, was a finalist for the 2014 Whidbey Writers' MFA Alumni Emerging Writers Contest. She is also the author of Sawbones (Redhook). She is a board member of the DFW Writers' Workshop and vice president of the Sisters in Crime North Dallas Chapter. Melissa lives in Dallas, Texas, with her husband and two sons.
Praise For The Fisher King: A Jack McBride Mystery…
A MysteryPeople Pick of the Month, November 2016

"This combination of police procedural and romance puts the pedal to the metal and revs up the action." —Kirkus Reviews

"The Fisher King is a haunting novel about different people's claims on a place, and the power struggles, violence, and deception they use to seize it. Dark and ominous, the novel strikes the perfect mood and will be sure to appeal to fans eager for more of McBride's adventures." —Foreword Reviews

"A fast-moving whodunit with compelling subplots and an appealing protagonist who's likely to keep winning fans." —Booklist

"Lenhardt perfectly captures the intrigue and drama inherent in small town Texas life. Throw a few murders into the dichotomy between the long-time residents and those who've just arrived, and you have a satisfying mix of dark, dangerous, and sexy." —MysteryPeople

"Melissa Lenhardt's Jack McBride is a complex and fallible protagonist you will root for. In The Fisher King, McBride takes on small town greed and corruption to his own peril in this sexy, gritty, and gripping thriller. A terrific new series!" —Deborah Crombie, New York Times bestselling author of the Duncan Kincaid and Gemma Jones series

"In a town run by a powerful family, a new lawman arrives and tries to glue the pieces of his life back together. Melissa Lenhardt's second Jack McBride novel, The Fisher King, is a terrific soap opera of an East Texas noir. Populated by shady characters, small-town gossips, and legions of folks with dark secrets, Stillwater tenses as a drug turf war looms. Chief Jack McBride, battered by his own personal crises, must get to the bottom of several killings before he's drummed out of office. Drug gangs, broken families, and a reluctant hero walking the finest line between success and failure. Don't miss The Fisher King. A riveting tale of disgrace, betrayal, and redemption. . . . Lenhardt writes a hard story with a soft hand. Evocatively descriptive and painfully believable, The Fisher King is Peyton Place meets The Godfather in small-town Texas. Politics, drugs, money, and sex. Lots of sex. Read it with Dwight Yoakam in your ear. Top notch." —James W. Ziskin, author of the Ellie Stone series

"Lenhardt draws you so deep into Stillwater, Texas, you'll think you live there and know everyone in town. In-depth characters, finely drawn descriptions, and a sure-fire plot make The Fisher King a very satisfying addition to the Texas crime fiction scene." —Terry Shames, Macavity Award Winning author of The Necessary Murder of Nonie Blake

Praise for Stillwater: A Jack McBride Mystery

Named Debut of the Month (November 2015) by Library Journal

(*) "Seeking to get away from his soon-to-be-ex-wife and his disintegrating career with the FBI, Jack McBride moves to the small east Texas town of Stillwater with his son, Ethan. Unfortunately, on his first day as the new police chief, there is a double homicide at a trailer park; Rosa and Gilberto were hardworking but undocumented laborers who may or may not have uncovered something worth killing for. Then another body is uncovered, buried for more than 50 years under a tree down by the creek. Something is definitely rotten in Stillwater. VERDICT: A finalist for the 2014 Whidbey Writers' MFA Alumni Emerging Writers Contest, this debut crime novel, spanning decades of Stillwater's history, features an ingenious plot and a complicated protagonist with inner depths worth plumbing. Readers who miss Donald Harstad will appreciate this well-done police procedural, which is also a good choice for fans of Terry Shames's "Samuel Craddock" mysteries, Lee Martin's "Deb Ralston" series, or Tricia Fields's "Josie Gray" novels." —Library Journal, starred review

"With a twisting plot, nonstop action, and a sexy, complex protagonist you'll root for from page one, Lenhardt brings the town of Stillwater, Texas (pop. 2,436), and all its long-buried secrets, to life. Fast-paced and tightly-written, Stillwater is a must-read for anyone who loves great crime fiction. Book two can't come soon enough!" —Wendy Tyson, author of Killer Image and Deadly Assets

"Stillwater runs deep with intrigue, passion, and long-buried secrets. Melissa Lenhardt weaves a rich tale of suspense as hot as the east Texas town in which it's set." —Annette Dashofy, USA Today bestselling author of the Zoe Chambers mysteries

"Small-town loyalties and long-simmering secrets combine for a compelling page-turner! A fish-out-of-water lawman and his adolescent son try to escape the past in not-so-cozy Stillwater, Texas—but soon they're battling corruption, revenge, and murder. Fast-paced dialogue, an authentic setting, and engaging characters—Stillwater is a one-sitting read." —Hank Phillippi Ryan, award-winning author of Truth Be Told

"Crisp and pacy writing pulls you in deep from page one, when Jack McBride strides into a crime scene and a world of trouble. Stillwater is the perfect combination of a tightly plotted tale peopled by rich, complex characters (plus one or two deliciously hateful true baddies). Slashed budgets, racial tensions, messy pasts—this small town is anything but cozy. The mystery itself is a classic puzzle, though: clever and convincing. Roll on Jack #2!" —Catriona McPherson, Agatha, Anthony and Macavity–winning author of the Edgar-nominated The Day She Died

"Dangerous things lurk beneath the placid surface in Stillwater, Texas. Secrets shunning the light of day, decades-old betrayals, lies that have taken on a life of their own. Moody and atmospheric, utterly compelling, you don't want to miss Melissa Lenhardt's marvelous debut novel." —Harry Hunsicker, former executive vice president of the Mystery Writers of America, author of The Grid

"Secrets, lies, and betrayals run through Stillwater like irrigation through dry land. Melissa Lenhardt's writing drips with detail to create a story that rushes like a wave toward an ever-twisting ending. Don't let the name fool you; Stillwater's threats lie right below the surface." —Diane Vallere, bestselling author of the Material Witness, Madison Night, and Style & Error Mysteries

A MysteryPeople Pick of the Month, November 2016

"This combination of police procedural and romance puts the pedal to the metal and revs up the action." —Kirkus Reviews

"The Fisher King is a haunting novel about different people's claims on a place, and the power struggles, violence, and deception they use to seize it. Dark and ominous, the novel strikes the perfect mood and will be sure to appeal to fans eager for more of McBride's adventures." —Foreword Reviews

"A fast-moving whodunit with compelling subplots and an appealing protagonist who's likely to keep winning fans." —Booklist

"Lenhardt perfectly captures the intrigue and drama inherent in small town Texas life. Throw a few murders into the dichotomy between the long-time residents and those who've just arrived, and you have a satisfying mix of dark, dangerous, and sexy." —MysteryPeople

"Melissa Lenhardt's Jack McBride is a complex and fallible protagonist you will root for. In The Fisher King, McBride takes on small town greed and corruption to his own peril in this sexy, gritty, and gripping thriller. A terrific new series!" —Deborah Crombie, New York Times bestselling author of the Duncan Kincaid and Gemma Jones series

"In a town run by a powerful family, a new lawman arrives and tries to glue the pieces of his life back together. Melissa Lenhardt's second Jack McBride novel, The Fisher King, is a terrific soap opera of an East Texas noir. Populated by shady characters, small-town gossips, and legions of folks with dark secrets, Stillwater tenses as a drug turf war looms. Chief Jack McBride, battered by his own personal crises, must get to the bottom of several killings before he's drummed out of office. Drug gangs, broken families, and a reluctant hero walking the finest line between success and failure. Don't miss The Fisher King. A riveting tale of disgrace, betrayal, and redemption. . . . Lenhardt writes a hard story with a soft hand. Evocatively descriptive and painfully believable, The Fisher King is Peyton Place meets The Godfather in small-town Texas. Politics, drugs, money, and sex. Lots of sex. Read it with Dwight Yoakam in your ear. Top notch." —James W. Ziskin, author of the Ellie Stone series

"Lenhardt draws you so deep into Stillwater, Texas, you'll think you live there and know everyone in town. In-depth characters, finely drawn descriptions, and a sure-fire plot make The Fisher King a very satisfying addition to the Texas crime fiction scene." —Terry Shames, Macavity Award Winning author of The Necessary Murder of Nonie Blake

Praise for Stillwater: A Jack McBride Mystery

Named Debut of the Month (November 2015) by Library Journal

(*) "Seeking to get away from his soon-to-be-ex-wife and his disintegrating career with the FBI, Jack McBride moves to the small east Texas town of Stillwater with his son, Ethan. Unfortunately, on his first day as the new police chief, there is a double homicide at a trailer park; Rosa and Gilberto were hardworking but undocumented laborers who may or may not have uncovered something worth killing for. Then another body is uncovered, buried for more than 50 years under a tree down by the creek. Something is definitely rotten in Stillwater. VERDICT: A finalist for the 2014 Whidbey Writers' MFA Alumni Emerging Writers Contest, this debut crime novel, spanning decades of Stillwater's history, features an ingenious plot and a complicated protagonist with inner depths worth plumbing. Readers who miss Donald Harstad will appreciate this well-done police procedural, which is also a good choice for fans of Terry Shames's "Samuel Craddock" mysteries, Lee Martin's "Deb Ralston" series, or Tricia Fields's "Josie Gray" novels." —Library Journal, starred review

"With a twisting plot, nonstop action, and a sexy, complex protagonist you'll root for from page one, Lenhardt brings the town of Stillwater, Texas (pop. 2,436), and all its long-buried secrets, to life. Fast-paced and tightly-written, Stillwater is a must-read for anyone who loves great crime fiction. Book two can't come soon enough!" —Wendy Tyson, author of Killer Image and Deadly Assets

"Stillwater runs deep with intrigue, passion, and long-buried secrets. Melissa Lenhardt weaves a rich tale of suspense as hot as the east Texas town in which it's set." —Annette Dashofy, USA Today bestselling author of the Zoe Chambers mysteries

"Small-town loyalties and long-simmering secrets combine for a compelling page-turner! A fish-out-of-water lawman and his adolescent son try to escape the past in not-so-cozy Stillwater, Texas—but soon they're battling corruption, revenge, and murder. Fast-paced dialogue, an authentic setting, and engaging characters—Stillwater is a one-sitting read." —Hank Phillippi Ryan, award-winning author of Truth Be Told

"Crisp and pacy writing pulls you in deep from page one, when Jack McBride strides into a crime scene and a world of trouble. Stillwater is the perfect combination of a tightly plotted tale peopled by rich, complex characters (plus one or two deliciously hateful true baddies). Slashed budgets, racial tensions, messy pasts—this small town is anything but cozy. The mystery itself is a classic puzzle, though: clever and convincing. Roll on Jack #2!" —Catriona McPherson, Agatha, Anthony and Macavity–winning author of the Edgar-nominated The Day She Died

"Dangerous things lurk beneath the placid surface in Stillwater, Texas. Secrets shunning the light of day, decades-old betrayals, lies that have taken on a life of their own. Moody and atmospheric, utterly compelling, you don't want to miss Melissa Lenhardt's marvelous debut novel." —Harry Hunsicker, former executive vice president of the Mystery Writers of America, author of The Grid

"Secrets, lies, and betrayals run through Stillwater like irrigation through dry land. Melissa Lenhardt's writing drips with detail to create a story that rushes like a wave toward an ever-twisting ending. Don't let the name fool you; Stillwater's threats lie right below the surface." —Diane Vallere, bestselling author of the Material Witness, Madison Night, and Style & Error Mysteries