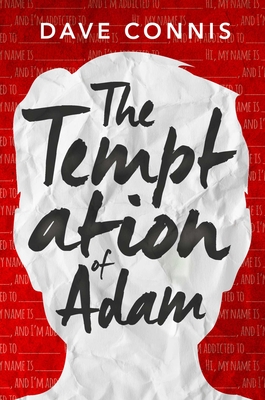 The Temptation of Adam (Hardcover)
A Novel
Sky Pony, 9781510707306, 352pp.
Publication Date: November 21, 2017
* Individual store prices may vary.
Description
Adam Hawthorne is fine. Yeah, his mother left, his older sister went with her, and his dad would rather read Nicholas Sparks novels than talk to him. And yeah, he spends his nights watching self-curated porn video playlists. But Adam is fine. When a family friend discovers Adam's porn addiction, he's forced to join an addiction support group: the self-proclaimed Knights of Vice. He goes because he has to, but the honesty of the Knights starts to slip past his defenses. Combine that with his sister's out-of-the-blue return and the attention of a girl he meets in an AA meeting, and all the work Adam has put into being fine begins to unravel. Now Adam has to face the causes and effects of his addiction, before he loses his new friends, his prodigal sister, and his almost semi-sort-of girlfriend.
About the Author
Dave Connis has held all manner of job, from ballroom dance instructor to construction worker. He is now a community manager at Code Corps, a platform where people can donate time, talent, and money to projects for social change. He also works as an assistant youth director at his church, Rock Creek Fellowship. He has a bachelor's in community development with a focus on international economics from Covenant College. He is a member of the SCBWI. He lives in Chattanooga, Tennessee, with his wife and son.
Praise For The Temptation of Adam: A Novel…
"A compassionate story about confronting and overcoming your demons." —Vice

"An honest, emotional, funny, romantic, dark, hopeful, musical gem of a novel. I know that's a lot of adjectives, but it'd be a disservice to leave any out." —Adi Alsaid, author of Let's Get Lost and Never Always Sometimes

"The Temptation of Adam is the sort of novel you finish and immediately wish you could read again for the first time. It's profound without being preachy, funny without pandering, and thoughtful in a way that few debut novels manage. Dave Connis is a writer to watch." —Bryan Bliss, author of Meet Me Here

On the surface, The Temptation of Adam is the story of a teenaged boy with *teenage-boy* problems, but the true brilliance of this novel lies in the way it uses heartache, humor, and music to reveal LOVE as both Healer-of-Wounds and Kick-in-the-Pants toward greatness. Highly recommend." —Nic Stone, author of Dear Martin

"Dave Connis's The Temptation of Adam confronts a difficult topic with honesty, humor, and heart. The friendships and love that form amongst the misfit cast of teens trying to overcome addiction are an important reminder of our power to destroy or give hope to those tangled in our messy lives."—Randy Ribay, author of An Infinite Number of Parallel Universes

"Connis emphasizes the importance of battling addiction with transparency, communication, and self-forgiveness. While the teens find support in one another, their recovery also relies on their relationships with adults who help them to set boundaries and goals. Impressively, this novel rarely feels preachy. Despite the main character's obsession with pornography, there is very little graphic sexual content, and the teens' dangerous activities, including drug and alcohol use and cutting, are never glorified. . . . VERDICT This debut may ultimately get lost among the multitude of recent books about teens with mental health issues, but its positive messages will make a worthwhile addition to most teen collections." —School Library Journal

"A compassionate story about confronting and overcoming your demons." —Vice

"An honest, emotional, funny, romantic, dark, hopeful, musical gem of a novel. I know that's a lot of adjectives, but it'd be a disservice to leave any out." —Adi Alsaid, author of Let's Get Lost and Never Always Sometimes

"The Temptation of Adam is the sort of novel you finish and immediately wish you could read again for the first time. It's profound without being preachy, funny without pandering, and thoughtful in a way that few debut novels manage. Dave Connis is a writer to watch." —Bryan Bliss, author of Meet Me Here

On the surface, The Temptation of Adam is the story of a teenaged boy with *teenage-boy* problems, but the true brilliance of this novel lies in the way it uses heartache, humor, and music to reveal LOVE as both Healer-of-Wounds and Kick-in-the-Pants toward greatness. Highly recommend." —Nic Stone, author of Dear Martin

"Dave Connis's The Temptation of Adam confronts a difficult topic with honesty, humor, and heart. The friendships and love that form amongst the misfit cast of teens trying to overcome addiction are an important reminder of our power to destroy or give hope to those tangled in our messy lives."—Randy Ribay, author of An Infinite Number of Parallel Universes

"Connis emphasizes the importance of battling addiction with transparency, communication, and self-forgiveness. While the teens find support in one another, their recovery also relies on their relationships with adults who help them to set boundaries and goals. Impressively, this novel rarely feels preachy. Despite the main character's obsession with pornography, there is very little graphic sexual content, and the teens' dangerous activities, including drug and alcohol use and cutting, are never glorified. . . . VERDICT This debut may ultimately get lost among the multitude of recent books about teens with mental health issues, but its positive messages will make a worthwhile addition to most teen collections." —School Library Journal