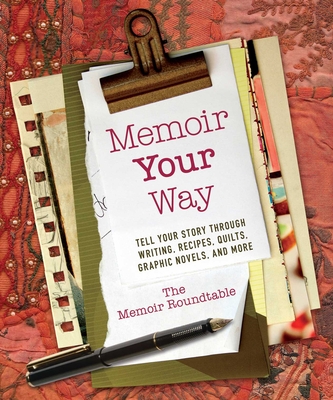 Memoir Your Way (Paperback)
Tell Your Story through Writing, Recipes, Quilts, Graphic Novels, and More
Skyhorse, 9781510707511, 208pp.
Publication Date: September 6, 2016
* Individual store prices may vary.
Description
A new approach to family and personal memoirs that includes many creative formats.

Memoir Your Way inspires family storykeepers to create a memoir using a craft you already know or are inspired to learn to create a personal, polished memoir your family will treasure. Accessible and with broad appeal, this first-of-its-kind book extends the written memoir form to cookbooks, scrapbooks, quilts, and other forms of storytelling.

Readers of Memoir Your Way will find out how to:

Create your own family cookbook like a pro
Design, stitch, and create stunning quilts that preserve family memories for the next generation and create a cherished gift
Bring out the natural storyteller in children while building self-confidence and a sense of family
Write engaging family stories with proven writing tips
Enrich scrapbooks with stories that might otherwise be overlooked and techniques that showcase even the memories that weren't preserved in photographs
Turn your story into a graphic novel with hand-drawn illustrations
Become the bridge for your heritage between the old world and the new

Memoir Your Way makes memoir accessible to everyone, including those who don't see themselves as writers. Memoir Your Way is a valuable sourcebook for quickly and easily creating memoirs that celebrate family stories and ancestry.
About the Author
The Memoir Roundtable is a group of six writers, crafters, and workshop leaders: nationally known quilter and American Folk Art Museum award-winner Linda Pool; public TV producer, cookbook editor, and cultural anthropologist Dianne Hennessy King; award-winning writer and memoir workshop leader Joanne Lozar Glenn; children's literacy expert and speaker Nadine James; memoir teacher, educational game inventor, and scrapper Katherine Nutt; and award-winning content producer, author, and graphic novel creator Natasha Peterson. The authors reside in Virginia.
Praise For Memoir Your Way: Tell Your Story through Writing, Recipes, Quilts, Graphic Novels, and More…
"This full-color, glossy coffee-table book not only explores different forms of memoir but also contains some of the BEST MEMOIR WRITING ADVICE I've ever read in a condensed format. . . . Memoir Your Way is one of the most inspiring writing books I've read in a while. It explores the art of memoir in many different formats and gives you the tools to jump right in. Each format has examples, resources, and takeaway. It makes memoir fun, not tedious or overwhelming!" —Angela Mackintosh, blogger at WOW! Women on Writing

"Quick and easy tips on how to tell a story, especially for those who do not wish to spend a lot of time writing a complete memoir. . . . Anyone who has a story to share could find this book inspiring." —Angela L. Eckhart, Hippocampus Magazine

"This full-color, glossy coffee-table book not only explores different forms of memoir but also contains some of the BEST MEMOIR WRITING ADVICE I've ever read in a condensed format. . . . Memoir Your Way is one of the most inspiring writing books I've read in a while. It explores the art of memoir in many different formats and gives you the tools to jump right in. Each format has examples, resources, and takeaway. It makes memoir fun, not tedious or overwhelming!" —Angela Mackintosh, blogger at WOW! Women on Writing

"Quick and easy tips on how to tell a story, especially for those who do not wish to spend a lot of time writing a complete memoir. . . . Anyone who has a story to share could find this book inspiring." —Angela L. Eckhart, Hippocampus Magazine