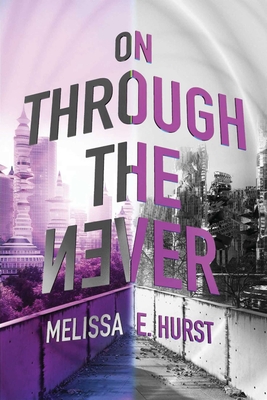 On Through the Never (Paperback)
Sky Pony, 9781510707610, 272pp.
Publication Date: July 11, 2017
* Individual store prices may vary.
Description
In 2013, Bridger and Alora found a way to prevent Alora's murder and return her to the century she was born in, preserving the timeline and preventing a possibly disastrous future.

Back in the year 2147, Bridger is following in his father's footsteps by wrapping up his military training at The Academy for Time Travel and Research. Alora is adjusting to life in the twenty-second century, and learning to master her powers; as a Dual Talent, she has the rare—and secret—ability to bend both space and time.

But unrest is growing in the North American Federation. As the government moves to limit the rights of Purists, people who refuse genetic modifications, violent protests break out. At the same time, paranoia and anger about the existence of Dual Talents seems to be growing—both among Purists and within the government itself.

Then a masked Time Bender arrives from the future. He insists that war is coming, and only Bridger and Alora can stop it.

There's just one problem: they have no memory of each other.
About the Author
Melissa E. Hurst is a YA science fiction and fantasy writer, which means she considers watching Star Trek and Firefly as research. She dreams of traveling around the world and maybe finding Atlantis one day. You can usually find her with a book in one hand and a Dr. Pepper in the other. Or consuming lots of chocolate.

Sky Pony Press, with our Good Books, Racehorse and Arcade imprints, is proud to publish a broad range of books for young readers—picture books for small children, chapter books, books for middle grade readers, and novels for young adults. Our list includes bestsellers for children who love to play Minecraft; stories told with LEGO bricks; books that teach lessons about tolerance, patience, and the environment, and much more. While not every title we publish becomes a New York Times bestseller or a national bestseller, we are committed to books on subjects that are sometimes overlooked and to authors whose work might not otherwise find a home.
Praise For On Through the Never…
Praise for The Edge of Forever

"A riveting tale of time travel and twisting conspiracies, one I couldn't put down and left me guessing until the very end!" —Bethany Hagen, author of Landry Park and Jubilee Manor

"A thrilling ride through time with twists and excitement that kept me glued to the pages all night!" —Kim (K. A.) Harrington, author of Forget Me and The Dead and Buried

"The Edge of Forever lives up to its name—it kept me on edge the whole time. Fast-paced, mind-bending sci-fi; fans of X-Men and Doctor Who are sure to love it." —Mindee Arnett, author of Avalon and Polaris

"A thrilling and clever time travel mystery that will leave you guessing until the very end." —Lori M. Lee, author of Gates of Thread and Stone and The Infinite

"This is Hurst's first novel, but one would not know from the deft way she balances dystopian science fiction, thriller, high school drama, and romance. She is definitely an author to watch for." —VOYA