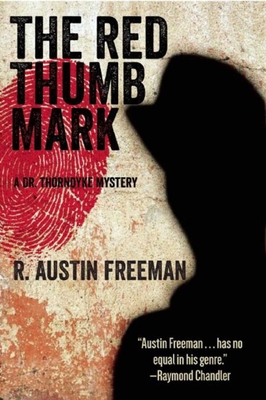 The Red Thumb Mark (Paperback)
A Dr. Thorndyke Mystery
Skyhorse, 9781510707733, 244pp.
Publication Date: July 19, 2016
Other Editions of This Title:
Paperback (4/27/2020)
Paperback (11/30/2017)
Paperback (3/29/2010)
Paperback (1/9/2019)
Paperback (11/4/2005)
Paperback (7/9/2020)
Paperback (4/18/2020)
Paperback (7/25/2020)
Hardcover (1/9/2019)
Paperback (1/31/2019)
Paperback, Large Print (9/4/2012)
Paperback (3/25/2017)
Hardcover (11/4/2005)
Paperback (7/31/2018)
Paperback (10/16/2009)
Hardcover, Large Print (8/18/2008)
Hardcover (8/18/2008)
* Individual store prices may vary.
Description
Before Kathy Reichs's Temperance Brennan and Patricia Cornwell's Kay Scarpetta, there was Dr. Thorndyke, the first ever fictional forensic scientist.

The only evidence against young Reuben Hornby in a jewel theft is his thumb print smeared in blood. It is enough to convict him of the crime until physician Dr. John Thorndyke dares to ask—and answer—the question, "Can a fingerprint be forged?"

The first detective novel to engage in scientific technology, The Red Thumb Mark has become a classic for its use of real science and its introduction to the genre's very first and greatest forensic scientist, Dr. Thorndyke. Described by Otto Penzler as "the greatest medico-legal detective of all time," the tall, athletic, and handsome Dr. Thorndyke approaches crime solving firmly grounded in the disciplines and logic of medical science, making inferences from data collected at the scene of the crime instead of basing the investigation on the suspects' motivations. First published in 1907, R. Austin Freeman's tale set the stage for the forensic science detective novel we are so familiar with today, and it remains one of the greatest and most memorable of the genre.

Skyhorse Publishing, as well as our Arcade, Yucca, and Good Books imprints, are proud to publish a broad range of books for readers interested in fiction—novels, novellas, political and medical thrillers, comedy, satire, historical fiction, romance, erotic and love stories, mystery, classic literature, folklore and mythology, literary classics including Shakespeare, Dumas, Wilde, Cather, and much more. While not every title we publish becomes a New York Times bestseller or a national bestseller, we are committed to books on subjects that are sometimes overlooked and to authors whose work might not otherwise find a home.
About the Author
R. Austin Freeman (1862–1943) was a colonial surgeon and British writer of detective stories. Deemed "the father of the scientific detective story," he is also credited with the invention of the inverted detective story, in which the crime is first described and then followed by the attempts to solve it. The popularity of Freeman's most beloved character, the medico-legal forensic investigator Dr. Thorndyke, who features in more than twenty-five stories, has affirmed his place among the finest of crime writers today. He died in Gravesend, United Kingdom.
Praise For The Red Thumb Mark: A Dr. Thorndyke Mystery…
"It would be difficult to find anywhere more nearly perfect stories of scientific deduction than the Dr. Thorndyke tales of R. Austin Freeman." —The New York Times

"This man Austin Freeman is a wonderful performer. He has no equal in his genre." —Raymond Chandler

"One of the undisputed milestones of the genre." —Howard Haycraft

"[Dr. Thorndyke is] the greatest medico-legal detective of all time." —Otto Penzler

"The Thorndyke books rank among the very best of modern detective fiction." —S. S. Van Dine

"The most carefully established crime savant since Sherlock Holmes." —Christopher Morley

"As with old wine, you learn to appreciate the bouquet, flavor, and body of the Thorndyke vintage . . . a priceless ingredient to your enjoyment of the pure detective story." —Ellery Queen

"It would be difficult to find anywhere more nearly perfect stories of scientific deduction than the Dr. Thorndyke tales of R. Austin Freeman." —The New York Times

"This man Austin Freeman is a wonderful performer. He has no equal in his genre." —Raymond Chandler

"One of the undisputed milestones of the genre." —Howard Haycraft

"[Dr. Thorndyke is] the greatest medico-legal detective of all time." —Otto Penzler

"The Thorndyke books rank among the very best of modern detective fiction." —S. S. Van Dine

"The most carefully established crime savant since Sherlock Holmes." —Christopher Morley

"As with old wine, you learn to appreciate the bouquet, flavor, and body of the Thorndyke vintage . . . a priceless ingredient to your enjoyment of the pure detective story." —Ellery Queen
or
Not Currently Available for Direct Purchase