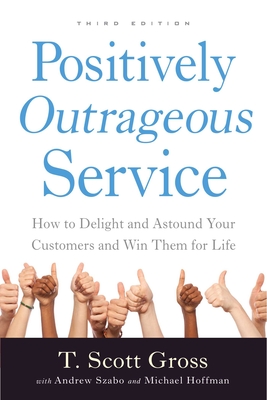 Positively Outrageous Service
How to Delight and Astound Your Customers and Win Them for Life
Paperback

* Individual store prices may vary.
Description
From T. Scott Gross, a consumer advocate, whose client roster for consulting and training reads like a who's who of the Fortune 500. Southwest Airlines, FedEx, McDonald's, Wal-Mart, and more have asked him to motivate their employees at conferences worldwide.
In today's tough economy, cutting prices and providing good service aren't enough. To be truly successful, innovative businesspeople must learn the art of Positively Outrageous Service (POS)—doing the unexpected unexpectedly and giving the customer more than he or she could hope for. POS put customer service guru T. Scott Gross on the map in the early 1990s. In this revised third edition, he contemporizes his work by examining what's wrong in the service industry today and how to turn those negatives into POS. In his signature, slightly irreverent, but always insightful style, he shows managers at every level of the service industry how to:
Build a customer base by following the four key principles of promotions—have fun, get people to your store, get people involved with your product, and do something good for others
Hire the right people and show them the fundamentals of POS
Energize and obtain the most creativity out of employees
Win over customers when mistakes happen, no matter who is at fault
POS is not just a way of doing business, according to Gross; it's also a state of mind and the key to success in the twenty-first century. Allworth Press, an imprint of Skyhorse Publishing, publishes a broad range of books on the visual and performing arts, with emphasis on the business of art. Our titles cover subjects such as graphic design, theater, branding, fine art, photography, interior design, writing, acting, film, how to start careers, business and legal forms, business practices, and more. While we don't aspire to publish a
New York Times
bestseller or a national bestseller, we are deeply committed to quality books that help creative professionals succeed and thrive. We often publish in areas overlooked by other publishers and welcome the author whose expertise can help our audience of readers.
Praise For Positively Outrageous Service: How to Delight and Astound Your Customers and Win Them for Life…
"T. Scott Gross makes me smile. As a storyteller, thinker, creative genius, and friend, you'll love his brilliant insights." —Mark Victor, coauthor of Chicken Soup for the Soul

"When I first heard of Scott's book, my reaction was . . . 'Why didn't I think of that?' . . . This is one of the rare instances where the title is as powerful as the contents." —Herman Cain, former president/CEO of Godfather's Pizza

"Positively Outrageous Service is the most enjoyable book I have read concerning customer service during the past decade." —Coleen C. Barrett, president emeritus of Southwest Airlines, Co.
Allworth, 9781510708174, 224pp.
Publication Date: August 2, 2016
About the Author
T. Scott Gross is a customer service/management expert with an expansive list of Fortune 500 clients. As an instrument-rated pilot and a certified Emergency Medical Technician, Scott has worked several fascinating jobs and he now pours all of his experience and expertise into writing. He has authored numerous books, including Millennial Rules (Allworth Press). Scott lives in Kerrville, Texas.

Andrew Szabo has extensive experience in luxury hospitality management and is best known as the creator of Simply Irresistible Marketing. He is the go-to guy when A-list clients are in need of marketing, branding, and business development strategies. He lives in Dallas, Texas.

Michael Hoffman, known for his contagious, often outrageous platform interactions with his audience, teaches companies around the world how to create a culture of ownership and influence. He lives in Dallas, Texas.
or
Not Currently Available for Direct Purchase