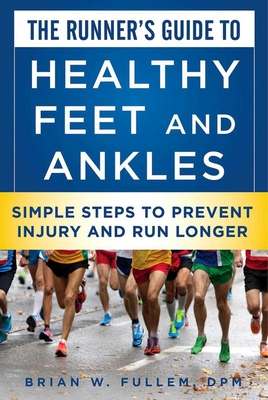 The Runner's Guide to Healthy Feet and Ankles (Paperback)
Simple Steps to Prevent Injury and Run Stronger
Skyhorse, 9781510708945, 224pp.
Publication Date: September 20, 2016
* Individual store prices may vary.
Description
In the sport of running, there is no more important piece of equipment than your feet. In The Runner's Guide to Healthy Feet and Ankles, distinguished sports physician Brian W. Fullem provides you with essential information on how to best take care of these important appendages. With sections on injury prevention, helpful foot exercises, and other key areas of maintaining foot health, The Runner's Guide to Healthy Feet and Ankles is indispensable to any serious runner. Within its pages discover:

• How to find the best sneaker for your foot type
• How to identify the difference between soreness and actual injury
• How to select the best supplements to take to prevent future problems
• When to undergo foot surgery
• And dozens more tips for maintaining optimal foot health

With The Runner's Guide to Healthy Feet and Ankles, you'll have all the information that you'll ever need to race your way to a future filled with fast times and strong feet.
About the Author
Brian W. Fullem, DPM, is a nationally known sports podiatrist. Fullem treats athletes of all abilities, from beginning runners up to Olympians. He is a board member of the American Academy of Podiatric Sports Medicine and is board-certified in foot surgery. He is a regular contributor to Running Times, and his articles on injury prevention and treatment are among the most read on the magazine's website. Fullem lives in Clearwater, Florida.

Weldon Johnson is a former elite runner and co-founder of the popular website LetsRun.com. He lives in Ithaca, New York.