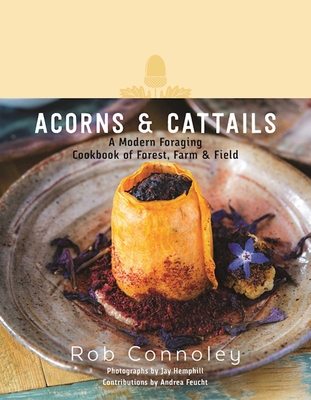 Acorns & Cattails (Hardcover)
A Modern Foraging Cookbook of Forest, Farm & Field
Skyhorse, 9781510709683, 224pp.
Publication Date: September 20, 2016
* Individual store prices may vary.
Description
The culinary do-it-yourself era is in full swing! Many chefs and cooks are seeking a deeper connection with their food through foraging, farming, and hunting, leading many to cast aside the casserole for modern spins on familiar foods.

In Acorns & Cattails, nationally acclaimed chef Rob Connoley offers more than one hundred recipes featuring ingredients that any home cook can forage, grow, or hunt. Each recipe shares modern flavor and texture pairings that will excite professional chef and home cook alike. The comforting mesquite chocolate chip cookie, the indulgent pork belly poppers, and the haute hackberry rabbit paté launch homespun do-it-yourself dishes into modern classics.

In addition to learning to cook foraged and farmed foods, readers will explore the basics of wild plant harvesting (including identification and ethical best practices) while enjoying humorous anecdotes from Connoley's years of remote gathering. Photographer Jay Hemphill also presents stunning images that capture the bounty of North America.
About the Author
Rob Connoley is a James Beard semi-finalist for best southwest chef and is the owner of the Curious Kumquat. He has received acclaim in the New York Times, Saveur magazine, Sunset magazine, and Gastronomica. Connoley farms in the high desert of the Southwestern United States and hunts and forages the world over seeking the greatest ingredients that Earth has to offer. He resides in Silver City, New Mexico.

Jay Hemphill grew up in the Kansas City area and is a graduate of Western New Mexico University, where he earned his BFA in photography. He resides in Silver City, New Mexico.
Praise For Acorns & Cattails: A Modern Foraging Cookbook of Forest, Farm & Field…
"Rob brings new light and inspiration to the ancient art of foraging. His insight, paired with chef-driven recipes, creates an informative field guide for the modern forager." —Sarah Kosikowski, pastry chef and James Beard Award nominee

"As visually stunning as it is informative. His work is incredibly compelling, and from an urban chef without any practical experience foraging, Rob makes me want to lay down my laptop, discover my own local flora, and see what I can also incorporate into our menus—an amazing book by a dedicated visionary." —Matthew Dolan, chef/owner of Twenty Five Lusk

"This book provides a very thoughtful approach in articulating the art of foraging and really moves the concept of farm-to-table to the next level. Rob tells every part of the story, from the Earth to the plate. I grew up in Silver City and always admired the land and it's a beauty in different way, but I never really appreciated its abundance until now; it makes me home sick now, more than ever." —Andres Padilla, culinary director of the Frontera Hospitality Group

"In this timely book by the unique and refreshing voice of Rob Connoley, the author offers one of the most significant guides to foraging for food written to date. The ethics set forth, together with his passionate appeal for food rich with the taste of the place from which it came, nourishing and delicious, are as inspiring to this seasoned chef as it will be to every home cook who picks up Acorns and Cattails." —Paul Fehribach, chef and owner of Big Jones

"Chef-owner Rob Connoley stocks the kitchen with ingredients he finds in the forest. He blends the foraged materials with locally sourced proteins like 4-H lamb and a touch of molecular magic." —Sunset

"The award for most far-flung modernist cuisine may go to chef Rob Connoley of the Curious Kumquat in Silver City, New Mexico." —Saveur

"No ordinary guide to eating the wild, this beautiful, creative presentation takes 100 gourmet recipes to a new level." —American Herb Association Quarterly

"Connoley's impractical culinary mission makes it that much more inspiring: prepare modernist food out of the most primitive of ingredients. The James Beard Award–nominated chef is a passionate advocate for foraging and propels his restaurant cuisine with food gathered from the surrounding landscape in Silver City, New Mexico. That might mean wild grass seed risotto dusted with cattail pollen or yucca blossom ice cream drizzled with pinecone syrup. Both are recipes found in this confident cookbook, which is an articulate introduction to the principles of foraging and cooking foraged foods as well as a vigorous call to ethically and sustainably source all ingredients. Connoley begins with a guide to plants he harvests in the desert and some foraging how-to, followed by chapters divided into recipes for wild and locally raised meat, locally farmed produce, and wild plants. Several recipes are complex and seem clearly geared to the professional, but committed home cooks will also find plenty to love in this exploration of rediscovered flavors." —Booklist

"Conversational and intimate, rather than formal, and laid out like a combination of a traditional gourmet cookbook and in-depth magazine feature, with interviews and asides, [this book] detours along a meander through the chef's kitchen. . . . Focusing on a very genuine new Southwestern cuisine, Acorns & Cattails still offers plenty of dishes that can be recreated successfully, even here on the other side of the continent by ordinary mortals. . . . Perhaps, one day, cooking with wild food will be commonplace, but for now, even if you find the whole idea somewhat exotic, Acorns & Cattails is well worth investigating. Even if you don't start stalking cattails, you will certainly learn a thing or two about where food really comes from, and the community that makes it happen." —Mallory O'Donnell, NJMA

"Rob brings new light and inspiration to the ancient art of foraging. His insight, paired with chef-driven recipes, creates an informative field guide for the modern forager." —Sarah Kosikowski, pastry chef and James Beard Award nominee

"As visually stunning as it is informative. His work is incredibly compelling, and from an urban chef without any practical experience foraging, Rob makes me want to lay down my laptop, discover my own local flora, and see what I can also incorporate into our menus—an amazing book by a dedicated visionary." —Matthew Dolan, chef/owner of Twenty Five Lusk

"This book provides a very thoughtful approach in articulating the art of foraging and really moves the concept of farm-to-table to the next level. Rob tells every part of the story, from the Earth to the plate. I grew up in Silver City and always admired the land and it's a beauty in different way, but I never really appreciated its abundance until now; it makes me home sick now, more than ever." —Andres Padilla, culinary director of the Frontera Hospitality Group

"In this timely book by the unique and refreshing voice of Rob Connoley, the author offers one of the most significant guides to foraging for food written to date. The ethics set forth, together with his passionate appeal for food rich with the taste of the place from which it came, nourishing and delicious, are as inspiring to this seasoned chef as it will be to every home cook who picks up Acorns and Cattails." —Paul Fehribach, chef and owner of Big Jones

"Chef-owner Rob Connoley stocks the kitchen with ingredients he finds in the forest. He blends the foraged materials with locally sourced proteins like 4-H lamb and a touch of molecular magic." —Sunset

"The award for most far-flung modernist cuisine may go to chef Rob Connoley of the Curious Kumquat in Silver City, New Mexico." —Saveur

"No ordinary guide to eating the wild, this beautiful, creative presentation takes 100 gourmet recipes to a new level." —American Herb Association Quarterly

"Connoley's impractical culinary mission makes it that much more inspiring: prepare modernist food out of the most primitive of ingredients. The James Beard Award–nominated chef is a passionate advocate for foraging and propels his restaurant cuisine with food gathered from the surrounding landscape in Silver City, New Mexico. That might mean wild grass seed risotto dusted with cattail pollen or yucca blossom ice cream drizzled with pinecone syrup. Both are recipes found in this confident cookbook, which is an articulate introduction to the principles of foraging and cooking foraged foods as well as a vigorous call to ethically and sustainably source all ingredients. Connoley begins with a guide to plants he harvests in the desert and some foraging how-to, followed by chapters divided into recipes for wild and locally raised meat, locally farmed produce, and wild plants. Several recipes are complex and seem clearly geared to the professional, but committed home cooks will also find plenty to love in this exploration of rediscovered flavors." —Booklist

"Conversational and intimate, rather than formal, and laid out like a combination of a traditional gourmet cookbook and in-depth magazine feature, with interviews and asides, [this book] detours along a meander through the chef's kitchen. . . . Focusing on a very genuine new Southwestern cuisine, Acorns & Cattails still offers plenty of dishes that can be recreated successfully, even here on the other side of the continent by ordinary mortals. . . . Perhaps, one day, cooking with wild food will be commonplace, but for now, even if you find the whole idea somewhat exotic, Acorns & Cattails is well worth investigating. Even if you don't start stalking cattails, you will certainly learn a thing or two about where food really comes from, and the community that makes it happen." —Mallory O'Donnell, NJMA