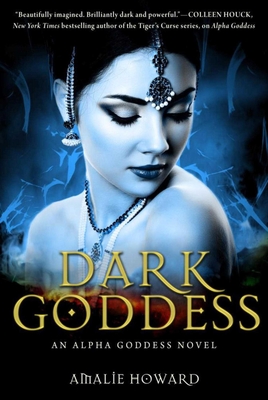 Dark Goddess (Hardcover)
Sky Pony, 9781510709898, 376pp.
Publication Date: February 13, 2018
* Individual store prices may vary.
Description
After an epic struggle that unseated the Azura Lord of Death and placed Serjana Caelum's best friend, Kyle, on his throne, the Mortal Realm is peaceful and the balance between good and evil—which Sera is sworn to protect—has been restored.

But signs of a new threat to the world of men quickly begin to appear: A scourge of demons descends on the Mortal Realm, and Sera is beside herself trying to locate their source. She sends word to the gods for help, and their answer comes in the form of Kira, the living incarnation of Kali, goddess of destruction.

Stunning and dangerous, Kira plans to protect the heavens at all cost, even if it means destroying the entire Mortal Realm. Soon Sera and Kyle find themselves fighting not just the demon plague, but Kira and her twin. But when an even more sinister threat arises—putting not just the human world but all planes of existence in jeopardy—they must all learn to work together or lose everything they sacrificed so much to save.
About the Author
Amalie Howard is the award-winning IndieNext author of Alpha Goddess, the Riven Chronicles series, the Aquarathi series, and the Cruentus Curse series. Her debut novel, Bloodspell, was an Amazon bestseller and a Seventeen Summer Read. She currently resides with her husband and three children in Colorado.
Praise For Dark Goddess…
"A rollicking, page-turning race against the end of time. Amalie Howard's latest shines."
—Zoraida Córdova, award-winning author of Labyrinth Lost

"In a richly imagined world plagued by darkness and demons, Sera and her friends shine bright enough to conquer them all. Dark Goddess is utterly enthralling, a wickedly fun tale sure to captivate fans of paranormal and fantasy alike!"
—Sarah Glenn Marsh, author of the Reign of the Fallen series and Fear the Drowning Deep

"A stunning work of the imagination featuring immortal goddesses, terrifying demons, heartbreak, family, friendship, and love. Teens take on the dark gods of the apocalypse in this superb retelling of Indian myths. The world of Dark Goddess draws you in until you never want to leave!"
—Ausma Zehanat Khan, author of The Bloodprint

"An expertly plotted, skillfully executed modern take on Hindu cosmology that will leave readers eager for the next installment of this girl-positive series."
—Kirkus Reviews

"Those looking for a more mature take on the Percy Jackson pantheon will be right at home . . . nonstop action and plot twists will keep readers engaged."
—VOYA