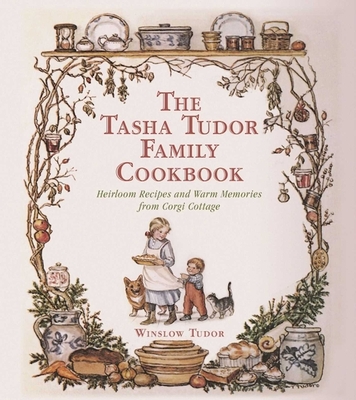 The Tasha Tudor Family Cookbook (Hardcover)
Heirloom Recipes and Warm Memories from Corgi Cottage
Skyhorse Publishing, 9781510710993, 176pp.
Publication Date: October 4, 2016
* Individual store prices may vary.
Description
World-renowned artist Tasha Tudor charmed and fascinated fans with her sweet illustrations and simple lifestyle. This cookbook echoes the cultural and family narrative so accurately and beautifully reflected in Tasha Tudor's art and life. The receipts (what she called recipes) also suggest Tasha's philosophy. "In all things moderation," she would say, then with a laugh, "except gardening." Tasha's grocery list was never long. She had a robust vegetable garden, a large chest freezer, and well-stocked larder. She created countless meals over many decades, and they were all very good. When possible, Tasha purchased fresh food, the origin and method of production of which she knew. But if she couldn't, or didn't want to, she didn't worry. Frugality was on her shopping list as well. These receipts--from Tasha's Poppyseed Cake to Shepherds Pie, Potato Soup to Chocolate Pudding--have been the mainstay of Tasha's family for generations, and are, for the most part, from the original cookbook she began as a young woman. The simple, comforting, and delicious receipts are accompanied by her beautiful watercolors and new photographs of the food and Tasha's homestead. Skyhorse Publishing, along with our Good Books and Arcade imprints, is proud to publish a broad range of cookbooks, including books on juicing, grilling, baking, frying, home brewing and winemaking, slow cookers, and cast iron cooking. We've been successful with books on gluten-free cooking, vegetarian and vegan cooking, paleo, raw foods, and more. Our list includes French cooking, Swedish cooking, Austrian and German cooking, Cajun cooking, as well as books on jerky, canning and preserving, peanut butter, meatballs, oil and vinegar, bone broth, and more. While not every title we publish becomes a New York Times bestseller or a national bestseller, we are committed to books on subjects that are sometimes overlooked and to authors whose work might not otherwise find a home.
About the Author
Winslow Tudor grew up in Vermont next door to his grandmother, Tasha Tudor, and now helps run the family business. He is involved daily with the preservation of Tasha's house, built by her son Seth, and the garden she created around it. In his spare time Winslow splits wood in anticipation of long New England winters, takes care of the chickens, walks the dogs, writes, takes photographs, bakes fresh bread for his children, and is generally very busy with his family, which is his preferred way to spend time. He lives in Marlboro, Vermont.