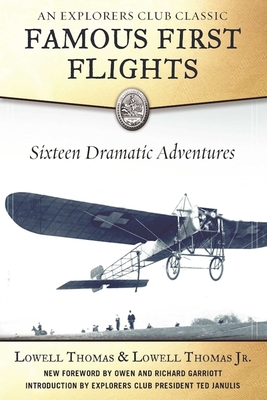 Famous First Flights (Paperback)
Sixteen Dramatic Adventures
Skyhorse, 9781510711068, 364pp.
Publication Date: November 15, 2016
* Individual store prices may vary.
Description
Within this classic volume are the tales, tribulations, and ultimate triumphs behind some of the most spectacular and breathtaking aerodynamic feats of early twentieth century aviation. Recounted firsthand from the annals of history, Famous First Flights will lift readers directly from the pages and into the action. Join the exhilarated crowd as they watch French flying ace Louis Bleriot make the first air journey over water in 1909. Be on the ground in Paris to welcome Lindbergh and his magnificent The Spirit of St. Louis upon the landing of the first solo transatlantic flight. Hold your breath with Ross Macpherson Smith and his crew on their infamously trouble-plagued trek from London to Australia in 1919. And relive the excitement and awe experienced 'round the world as "The Magellans of the Air" completed the first circumnavigation of the globe via air in 1965.

In these and thirteen other accounts of jaw-dropping feats, celebrated aviators Lowell Thomas and Lowell Thomas Jr. deliver another must-have volume in the Explorers Club Classic Series. With over forty photographs and new updates on ballooning and space flights, Famous First Flights is must-have compendium for every arm-chair pilot and aviation enthusiast.
About the Author
Lowell Thomas was an American writer, broadcaster, and world traveler. He was the author of more than a dozen books in his lifetime, including the classic With Lawrence in Arabia (1924). He passed away in 1981.

Lowell Thomas Jr. is a retired mountaineer and bush and glacier pilot, an author, a motion picture producer, and a former senator from Alaska. He lives in Juneau, Alaska.

Owen Garriott is a retired NASA astronaut. He lives in Huntsville, Alabama.

Richard Garriott is a private astronaut. He lives in Austin, Texas.

Ted Janulis is the president of the Explorers Club. He lives in New York City.