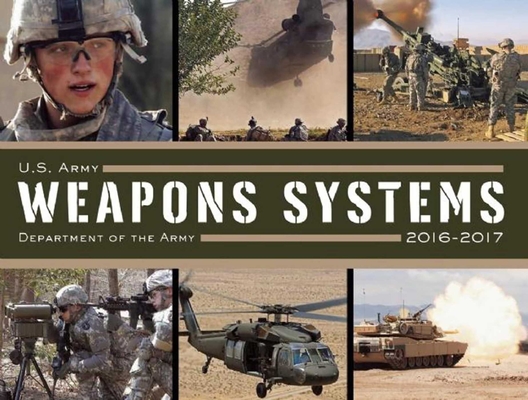 U. S. Army Weapons Systems 2016-2017 (Paperback)
Skyhorse, 9781510713055, 384pp.
Publication Date: November 15, 2016
Other Editions of This Title:
Paperback (1/22/2013)
* Individual store prices may vary.
Description
From the Advanced Threat Infrared Countermeasures to the XM320 grenade launcher, this comprehensive guide profiles nearly every weapon currently in use by the U.S. Army. In addition, it covers cutting-edge technology that will soon be employed by soldiers around the world. This book features:

Missiles
Biological detection systems
Rockets
Reconnaissance systems
Bows and arrows (believe it or not)

You name it, this book has it. Also included is a thorough discussion of Future Combat Systems (FCS), the system of systems that, when fully operational, will provide the Army and the joint forces with an unprecedented capability to see the enemy, engage him on their terms, and defeat him on the twenty-first-century battlefield.

Skyhorse Publishing is proud to publish a range of books for readers interested in military tactics and skills. We publish content provided by or of interest to the U.S. Army, Army Rangers, the U.S. Navy, Navy SEALs, the U.S. Air Force, the U.S. Marine Corps, and the Department of Defense. Our books cover topics such as survival, emergency medicine, weapons, guns, weapons systems, hand-to-hand combat, and more. While not every title we publish becomes a New York Times bestseller or a national bestseller, we are committed to publishing books on subjects that are sometimes overlooked by other publishers and to authors whose work might not otherwise find a home.
About the Author
The U.S. Department of the Army is headquartered at the Pentagon in Arlington, Virginia, and authors The Soldier s Guide, The Complete Guide to Edible Wild Plants, U.S. Army Hand-to-Hand Combat, U.S. Army First Aid Manual, U.S. Army Weapons Systems, U.S. Army Special Forces Handbook, U.S. Army Guide to Boobytraps, U.S. Army Explosives and Demolitions Handbook, U.S. Army Special Forces Guide to Unconventional Warfare, and Special Operations Forces Medical Handbook."