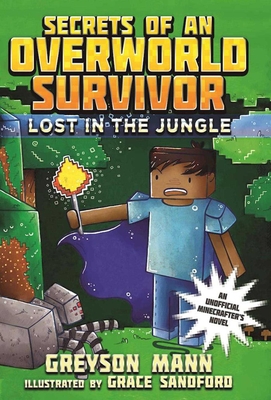 Lost in the Jungle: Secrets of an Overworld Survivor, #1 (Hardcover)
Secrets of an Overworld Survivor, #1
Sky Pony Press, 9781510713253, 112pp.
Publication Date: January 17, 2017
Description

Will has spent his whole life in the shadow of his older brother, Seth. Sure, his brother is a master builder who is known throughout the entire Overworld, but Will knows he could make his own mark in Minecraft if anyone would give him the chance to prove himself. So when Will gets the chance to go on his first solo adventure, he jumps at the opportunity.
Seth urges Will to stay at home where he'll be safe, or at least take some time to prepare for the journey, but Will knows he has the courage and strength to face whatever strange biomes or hostile mobs the Overworld has in store for him.
Will's quest gets off to a great start when he meets Mina, a fellow adventurer, and they decide to look for excitement together. But when the two get separated and night starts to fall, Will realizes he is lost. With spiders and creepers spawning all around him and no shelter in sight, can Will survive the night all on his own?
Beginning readers--and gamers--will be on the edge of their seats in this thrilling first installment in the Secrets of an Overworld Survivor chapter book series
Sky Pony Press, with our Good Books, Racehorse and Arcade imprints, is proud to publish a broad range of books for young readers--picture books for small children, chapter books, books for middle grade readers, and novels for young adults. Our list includes bestsellers for children who love to play Minecraft; stories told with LEGO bricks, and Pokemon Go; books that teach lessons about tolerance, patience, and the environment, and much more. While not every title we publish becomes a New York Times bestseller or a national bestseller, we are committed to books on subjects that are sometimes overlooked and to authors whose work might not otherwise find a home.

About the Author
Greyson Mann learned how to play Minecraft from his nine-year-old nephew, who proved that being a good player isn t about ageit s all about experience! Greyson is happy to report that since then, he has built his own castle and enjoys breeding sheep and chickens. He still takes time to explore and have great adventures, both in the Overworld and in real life, too, near his home in Madison, Wisconsin.

Grace Sandford is an illustrator and designer whose clients include Palmer Hargreaves, "Stew" magazine, Green Android Ltd., and Paper and Apparel. Her books include "Tough Cookie," written by Kate Louise, and "The Egg," which she both wrote and illustrated. She currently resides in Norwich, England."
Advertisement