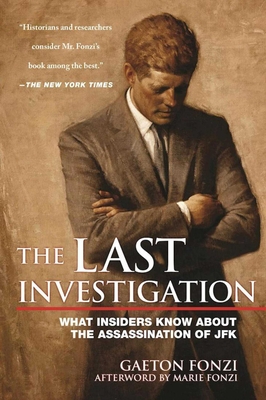 The Last Investigation
Paperback

* Individual store prices may vary.
Other Editions of This Title:
Paperback (11/13/2018)
MP3 CD (6/28/2016)
Hardcover (9/3/2013)
Description
Gaeton Fonzi's masterful retelling of his work investigating the Kennedy assassination for two congressional committees is required reading for students of the assassination and the subsequent failure of the government to solve the crime. His book is a compelling postmortem on the House Select Committee on Assassinations, as well as a riveting account of Fonzi's pursuit of leads indicating involvement in the assassination by officers of the Central Intelligence Agency.

First published in 1993, The Last Investigation was a landmark book upon its release. More than merely an indictment of the Committee's work, The Last Investigation tells the story of the important leads Fonzi developed as an investigator, which sent him into the milieu of Kennedy-haters among anti-Castro exiles and CIA officers. In this highly readable book, the author follows the trail to formerly obscure CIA officers such as David Atlee Phillips and David Morales. New records declassified under the JFK Records Act have only added to the dark questions raised here.
Skyhorse, 9781510713932, 496pp.
Publication Date: November 22, 2016
About the Author
Gaeton Fonzi was an investigative journalist and author who focused on the assignation of John F. Kennedy. He worked as a reporter and editor for Philadelphia magazine from 1959 to 1972 and contributed to a range of other publications, including the New York Times and Penthouse. He was hired as a researcher in 1975 by the Church Committee and by the House of Representatives Select Committee on Assassinations in 1977. He published his findings as a Congressional researcher in The Last Investigation. Fonzi died in 2012.