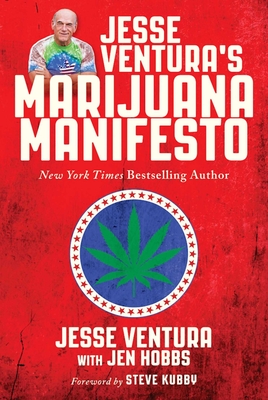 Jesse Ventura's Marijuana Manifesto (Hardcover)
How Lies, Corruption, and Propaganda Kept Cannabis Illegal
Skyhorse, 9781510714243, 316pp.
Publication Date: September 6, 2016
Other Editions of This Title:
Compact Disc (9/6/2016)
MP3 CD (9/6/2016)
Paperback (9/12/2017)
* Individual store prices may vary.
Description
New York Times Bestselling Author!

In this groundbreaking book, bestselling author Jesse Ventura lays out his philosophy on marijuana, and why he's always been in favor of legalization. Now, more than ever before, our country needs to see full legalization of medical/recreational marijuana and hemp.

Any way you look at it, for whoever is using it, marijuana is a medicinal plant, in abundant supply. Every month and every year that goes by, we find out more positive things about it. Medicinal marijuana has been demonized through the years but obviously this plant has a great deal of positive attributes, and it's also a renewable resource. Being a cash crop, marijuana is bad for the pharmaceutical industry. Is Big Pharma pressuring the government to continue to deny sick people access? If so, that's truly a crime against American citizens. And as Ventura writes: "Our government won't do the right thing and legalize marijuana unless we the people demand it, because there are so many people within our government on the payroll, all thanks to the War on Drugs."

Jesse Ventura's Marijuana Manifesto calls for an end to the War on Drugs. Just because something is illegal, that doesn't mean it goes away, it just means that criminals run it. Legalizing marijuana and marijuana dispensaries will serve to rejuvenate our pathetic economy, and just might make people a little happier. Ventura's book will show us all how we can take our country back.
About the Author
Jesse Ventura is the former independent governor of Minnesota. He is also a former US Navy frogman, a professional wrestler, a movie actor, a visiting fellow at Harvard Kennedy School of Government, and the New York Times bestselling author of seven books, including American Conspiracies, 63 Documents the Government Doesn't Want You to Read, and Don't Start the Revolution Without Me! He was the host and executive producer of truTV's Conspiracy Theory with Jesse Ventura, which won the Stony Award from High Times magazine in 2010. He was also the host of the political talk show Off The Grid, which aired on RT America and online at Ora.tv. He has a reputation as a rebel and a freethinker, and he has no qualms about questioning authority. He spends half the year in Baja, Mexico and the other half in his home state of Minnesota.

Jen Hobbs has been a publicity consultant for the greater part of her career, representing Oscar and Emmy award-winning clients as well as politicians and authors. She has worked behind-the-scenes with Jesse Ventura since 2007 and shares his enthusiasm for searching for the truth, no matter where it leads. In 2016, she co-authored Jesse Ventura's Marijuana Manifesto, which inspired the content for this book. After visiting and living in several states and countries, Hobbs now resides in O'Fallon, Missouri with her husband, Andrew, and daughter, McKayla, and currently employs her artistic talents through her art and custom jewelry company Hobbs Superior Handmade Supply.
Praise For Jesse Ventura's Marijuana Manifesto: How Lies, Corruption, and Propaganda Kept Cannabis Illegal…
"Right now, more celebs than ever are jumping on the 'Legalize' bandwagon. Why? Because it's safe now. It won't impact your career anymore. But Jesse Ventura has been a solid proponent of legal cannabis for decades. In Jesse Ventura's Marijuana Manifesto, he lays out the good sense of legalization, as well as the sheer insanity of prohibition. As a proud American, he pulls no punches calling out the political elite. - Dan Skye, High Times editor-in-chief

"Ventura is ultimately quite convincing about the ineffectuality of the War on Drugs, and on the contradictions and corruptions of the Drug Enforcement Administration, a particular bugbear of his." - Michael Lindgren, The Washington Post

"As an ex-governor of a Midwestern state as well as an ex-Navy SEAL, Vietnam War veteran who currently lives in a solar-powered, off-the-grid location on the Baja Peninsula, Mr. Ventura is in quite the unique position to weigh in on ending the fruitless "War on Drugs" and the legalization of cannabis in the United States. In Jesse Ventura's Marijuana Manifesto, he lays out a common sense, well-researched, and well meant point of view. I'm in." - Henry Rollins

"Gov. Ventura clearly understands the failure of marijuana prohibition and the damage it has caused in terms of liberty, economic burden, and human suffering. This book represents an innovative way forward." - Morgan Fox, Communications Manager, Marijuana Policy Project

"Governor Ventura presents a compelling argument that Medical Marijuana is about Rights, not Rules." - Steve Kubby

"We have a lot in common… we both like fanny packs, we both don't know how to skate, we both like pot… Jesse Ventura for president 2020. Make it happen, folks!" - Joe Rogan

"If people really knew the history of marijuana prohibition laws, they would demand repeal. In other words, read Jesse Ventura's book!" - Judge James P. Gray; former Superior Court Judge of Orange County, CA and 2012 Libertarian Party Vice Presidential Nominee

"Jesse Ventura's Marijuana Manifesto is an up-to-date and well researched pro-pot polemical that, like the former Minnesota Governor himself, delves into areas that most conventional media outlets, commentators and politicians shy away from. Ventura is both praiseful and critical of the emerging cannabis industry, its lobbyists, and the types of legal and cultural precedents these changes are currently having on the nation and world. There are a multitude of well published books today regarding cooking with cannabis, cultivating it, medicinal use, and even adult cannabis coloring books, but for serious readers looking for a more substantive political discussion about America's changing cannabis laws, Jesse Ventura's Marijuana Manifesto will not disappoint." - Allen St. Pierre, Executive Director of NORML

"Ventura's opinions can seem one moment fringe and conspiratorial and the next completely reasonable, and sometimes both at once. He has always been a maverick, afraid of nobody, and trusting of few." - Brian Blickenstaff, VICE Sports

"Though we often disagree – and I told him so, from the safety of my phone – I'm glad Jesse's out there... He is our first amendment incarnate... In a world of corporate shills and empty talking points, I'll drink a cup of conspiracy with my free speech every single time. Now, somebody, please hire the guy for God sakes! And buy his book!" - Steve Faktor, Forbes contributor

"Jesse Ventura is a truth-teller who doesn't care who he pisses off. He proves it again in this timely book." - Roger Stone, New York Times Bestselling author of The Man Who Killed Kennedy

"In his new book, Jesse Ventura's Marijuana Manifesto, which he co-wrote with Jen Hobbs, Ventura offers a lucid, rights-based defense of marijuana legalization." - Sean Illing, VOX.com

"A well-reasoned argument for ending prohibition, but it truly stands out as an obsessively researched and detailed indictment against the Drug War and its many profit-motivated warriors." - David Jenison, prohbtd.com

"Right now, more celebs than ever are jumping on the 'Legalize' bandwagon. Why? Because it's safe now. It won't impact your career anymore. But Jesse Ventura has been a solid proponent of legal cannabis for decades. In Jesse Ventura's Marijuana Manifesto, he lays out the good sense of legalization, as well as the sheer insanity of prohibition. As a proud American, he pulls no punches calling out the political elite. - Dan Skye, High Times editor-in-chief

"Ventura is ultimately quite convincing about the ineffectuality of the War on Drugs, and on the contradictions and corruptions of the Drug Enforcement Administration, a particular bugbear of his." - Michael Lindgren, The Washington Post

"As an ex-governor of a Midwestern state as well as an ex-Navy SEAL, Vietnam War veteran who currently lives in a solar-powered, off-the-grid location on the Baja Peninsula, Mr. Ventura is in quite the unique position to weigh in on ending the fruitless "War on Drugs" and the legalization of cannabis in the United States. In Jesse Ventura's Marijuana Manifesto, he lays out a common sense, well-researched, and well meant point of view. I'm in." - Henry Rollins

"Gov. Ventura clearly understands the failure of marijuana prohibition and the damage it has caused in terms of liberty, economic burden, and human suffering. This book represents an innovative way forward." - Morgan Fox, Communications Manager, Marijuana Policy Project

"Governor Ventura presents a compelling argument that Medical Marijuana is about Rights, not Rules." - Steve Kubby

"We have a lot in common… we both like fanny packs, we both don't know how to skate, we both like pot… Jesse Ventura for president 2020. Make it happen, folks!" - Joe Rogan

"If people really knew the history of marijuana prohibition laws, they would demand repeal. In other words, read Jesse Ventura's book!" - Judge James P. Gray; former Superior Court Judge of Orange County, CA and 2012 Libertarian Party Vice Presidential Nominee

"Jesse Ventura's Marijuana Manifesto is an up-to-date and well researched pro-pot polemical that, like the former Minnesota Governor himself, delves into areas that most conventional media outlets, commentators and politicians shy away from. Ventura is both praiseful and critical of the emerging cannabis industry, its lobbyists, and the types of legal and cultural precedents these changes are currently having on the nation and world. There are a multitude of well published books today regarding cooking with cannabis, cultivating it, medicinal use, and even adult cannabis coloring books, but for serious readers looking for a more substantive political discussion about America's changing cannabis laws, Jesse Ventura's Marijuana Manifesto will not disappoint." - Allen St. Pierre, Executive Director of NORML

"Ventura's opinions can seem one moment fringe and conspiratorial and the next completely reasonable, and sometimes both at once. He has always been a maverick, afraid of nobody, and trusting of few." - Brian Blickenstaff, VICE Sports

"Though we often disagree – and I told him so, from the safety of my phone – I'm glad Jesse's out there... He is our first amendment incarnate... In a world of corporate shills and empty talking points, I'll drink a cup of conspiracy with my free speech every single time. Now, somebody, please hire the guy for God sakes! And buy his book!" - Steve Faktor, Forbes contributor

"Jesse Ventura is a truth-teller who doesn't care who he pisses off. He proves it again in this timely book." - Roger Stone, New York Times Bestselling author of The Man Who Killed Kennedy

"In his new book, Jesse Ventura's Marijuana Manifesto, which he co-wrote with Jen Hobbs, Ventura offers a lucid, rights-based defense of marijuana legalization." - Sean Illing, VOX.com

"A well-reasoned argument for ending prohibition, but it truly stands out as an obsessively researched and detailed indictment against the Drug War and its many profit-motivated warriors." - David Jenison, prohbtd.com