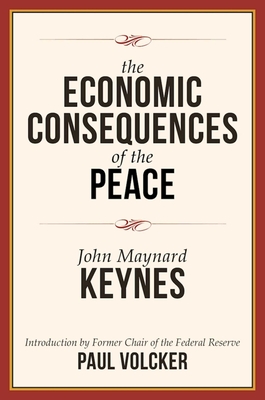 The Economic Consequences of the Peace (Paperback)
Skyhorse, 9781510714397, 192pp.
Publication Date: October 18, 2016
Other Editions of This Title:
Paperback (9/19/2011)
Paperback (8/22/2011)
Paperback (4/21/2011)
Paperback (4/4/2010)
Paperback (10/22/2008)
Paperback (7/11/2011)
Hardcover (4/4/2010)
Hardcover (8/18/2008)
Hardcover (9/1/2006)
Paperback (12/21/2010)
Paperback (3/24/2011)
Paperback (10/1/2001)
Paperback (2/10/2009)
Paperback (1/1/1995)
* Individual store prices may vary.
Description
A new edition of the seminal text by the father of modern economics.

First published in 1919, John Maynard Keynes's The Economic Consequences of the Peace created immediate controversy. Keynes was a firsthand witness to the negotiations of the Paris Peace Conference, as an official representative of the British Treasury, and he simultaneously sat as deputy for the chancellor of the Exchequer on the Supreme Economic Council. In these roles, he was able to perceive with great clarity the tenor and perspective that would come to shape Europe after the First World War. What he saw disturbed him greatly, and eventually he resigned from both these roles, convinced that there was no longer any way to avoid an unjust peace treaty.

After his resignation, Keynes began work on The Economic Consequences of the Peace, which argues that the peace made at the end of World War I was an unfair, dehumanizing one for Germany and the other vanquished countries. Keynes's warning proved prophetic when Hitler and the Nazi Party rose to power fourteen years later as a direct result of the disastrous economic condition in Germany. Keynes's predictions helped cement his status as one of history's leading economists. His works are essential reading today for anyone who wishes to understand modern governments and economies. This edition also includes an introduction from former Chairman of the Federal Reserve Paul Volcker, who elegantly contextualizes the continuing relevance of Keynes's work to contemporary society.