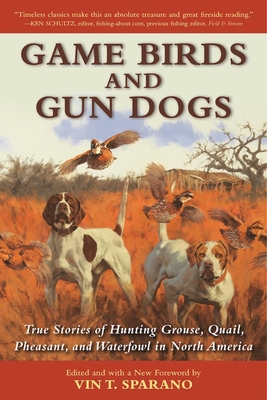 Game Birds and Gun Dogs
True Stories of Hunting Grouse, Quail, Pheasant, and Waterfowl in North America
Paperback

* Individual store prices may vary.
Description
"Timeless classics make this an absolute treasure and great fireside reading."

—Ken Schultz, former fishing editor, Field & Stream Magazine

Let legendary outdoor writer and editor Vin Sparano (Outdoor Life Magazine) take you into the great outdoors with stories about hunters, their dogs and the upland game and waterfowl they hunt.

Hunters will experience all the emotion they do in the outdoors in the comfort of their easy chair: the smell of an autumn forest, the friendship of a trusted hunting dog, the joy of the hunt, the satisfaction of a fine meal.

Readers will be grateful to have joined these hunts!
Skyhorse, 9781510714779, 152pp.
Publication Date: September 27, 2016
About the Author
Vin T. Sparano has been an outdoor editor and writer for more than fifty years. He is editor emeritus of Outdoor Life magazine, having served as editor in chief from 1990 to 1995, and previously as the executive editor for more than ten years. Sparano's work in the field includes numerous articles and syndicated feature writing for USA Today and Gannett newspapers. He has written and edited eighteen books, including The Greatest Hunting Stories Ever Told and Classic Hunting Tales. He is a former president of the New York Metropolitan Outdoor Press Association and a heritage member of the Professional Outdoor Media Association. Sparano lives in Waretown, New Jersey.

Joseph B. Healy is an acclaimed writer and a traumatic brain injury survivor. He has worked as a consumer magazine editor since 1992, previously working as an editor at Outdoor Life magazine, the editor-in-chief ofVermont magazine, and the associate publisher at Fly Rod & Reel. He is currently editor of Covey Rise. Healy is involved with many fly-fishing and sporting organizations and often interviewed about outdoors-related topics. He lives in Vermont.