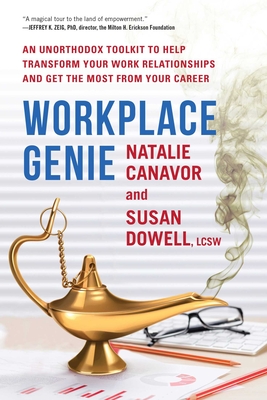 Workplace Genie (Paperback)
An Unorthodox Toolkit to Help Transform Your Work Relationships and Get the Most from Your Career
Skyhorse, 9781510715257, 240pp.
Publication Date: June 20, 2017
* Individual store prices may vary.
Description
From time to time, many of us might wish for a genie to transform our workplace. But what if you yourself had that power? Workplace Genie shows employees, entrepreneurs, and virtual workers how to handle challenging work relationships in unorthodox ways. Melding the proven ideas of a communications expert and leading psychotherapist, this book gives readers a powerful new toolbox to connect with their own inner resources and understand other people's perspectives.
Readers will learn how to move past their own self-imposed obstacles, assess situations more realistically, and build positive long-term relationships. This book is an essential resource for those who want to take the initiative with confidence and:

Improve their own work environment by bringing out the best in other people

Reset relationships and overcome previous experiences that hamper success

Relate to their boss and coworkers better

Keep their cool when triggered by old insecurities

Armed with this essential toolkit, you will become your own workplace genie.
About the Author
Natalie Canavor has been a national magazine editor-in-chief, director of corporate communications, and award-winning writer for the New York Times and numerous business publications. She has been interviewed for PBS's Next Avenue and by Fast Company, among others. She also leads business communication workshops and advanced writing seminars for universities and has written four books, including Business Writing for Dummies. Natalie lives and works in New York City and Annapolis, Maryland.

Susan Dowell, LCSW, is a psychotherapist and clinical hypnotherapist specializing in relationship issues and mood disorders. She is vice president of the American Society of Clinical Hypnosis and has trained health clinicians in clinical hypnosis for more than twenty years. Susan practices in New York City and Westchester County, New York.
Praise For Workplace Genie: An Unorthodox Toolkit to Help Transform Your Work Relationships and Get the Most from Your Career…
"Keep this book on your desk, not on your shelf. You'll refer to it daily." —Karen Suman, TED speaker coach, trainer, and author

"A treasure trove of accessible resources to combat stress and manage relationships at work. The emphasis on finding inner strengths . . . makes this book an especially valuable resource. I highly recommend it! " —Carolyn Daitch, PhD, director of the Center for the Treatment of Anxiety Disorders and author of The Road to Calm Workbook

"Easy to read. Easy to apply. An investment that returns interest." —Jeffrey K. Zeig, PhD, director, the Milton H. Erickson Foundation

"Over the years, I have used a Canavor book to help train hundreds of students and young professionals. I very much look forward to introducing young and older folks to this new one." —John Doorley, Elon University, former head of corporate communication at Merck and founding academic director of the graduate program in corporate communication at NYU

"I wish I had this book to guide me through workplace challenges I've faced over the years. I'm glad I have it now to refer to and I've already got a list of others who I know will benefit from its wisdom." —Allen Mogol, writer, marketer, and adjunct professor at NYU's School of Professional Studies

"A remarkable source book and a must-read, full of practical techniques to overcome self-limiting thinking holding us back from achieving our goals." —Bruce Kahn, VP of sales, B-E Industries, Inc.

""Workplace Genie is a must read for anyone that wants to be happier, more productive and engaged at work. The key to workplace and personal success hinges on the quality of our relationships. Coming from business communications and psychology perspectives, the authors share practical and realistic strategies, which will give you insightful understanding of yourself and others so that your relationships with your boss, coworkers and other challenging people will flourish." —Linda Samuels, author of The Other Side of Organized

"Easy to read and chock-full of practical advice, human resources in any workplace should give Workplace Genie to every employee." —Leah Lancione, Outlook by the Bay

"Keep this book on your desk, not on your shelf. You'll refer to it daily." —Karen Suman, TED speaker coach, trainer, and author

"A treasure trove of accessible resources to combat stress and manage relationships at work. The emphasis on finding inner strengths . . . makes this book an especially valuable resource. I highly recommend it! " —Carolyn Daitch, PhD, director of the Center for the Treatment of Anxiety Disorders and author of The Road to Calm Workbook

"Easy to read. Easy to apply. An investment that returns interest." —Jeffrey K. Zeig, PhD, director, the Milton H. Erickson Foundation

"Over the years, I have used a Canavor book to help train hundreds of students and young professionals. I very much look forward to introducing young and older folks to this new one." —John Doorley, Elon University, former head of corporate communication at Merck and founding academic director of the graduate program in corporate communication at NYU

"I wish I had this book to guide me through workplace challenges I've faced over the years. I'm glad I have it now to refer to and I've already got a list of others who I know will benefit from its wisdom." —Allen Mogol, writer, marketer, and adjunct professor at NYU's School of Professional Studies

"A remarkable source book and a must-read, full of practical techniques to overcome self-limiting thinking holding us back from achieving our goals." —Bruce Kahn, VP of sales, B-E Industries, Inc.

""Workplace Genie is a must read for anyone that wants to be happier, more productive and engaged at work. The key to workplace and personal success hinges on the quality of our relationships. Coming from business communications and psychology perspectives, the authors share practical and realistic strategies, which will give you insightful understanding of yourself and others so that your relationships with your boss, coworkers and other challenging people will flourish." —Linda Samuels, author of The Other Side of Organized

"Easy to read and chock-full of practical advice, human resources in any workplace should give Workplace Genie to every employee." —Leah Lancione, Outlook by the Bay
or
Not Currently Available for Direct Purchase