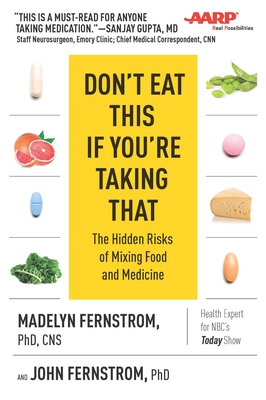 Don't Eat This If You're Taking That (Paperback)
The Hidden Risks of Mixing Food and Medicine
Skyhorse Publishing, 9781510715387, 232pp.
Publication Date: May 2, 2017
* Individual store prices may vary.
Description
Winner of the 2018 Gold National Health Information Award and 2018 APEX Merit Award NBC Today show nutrition and diet guru Madelyn Fernstrom and award-winning neuroscientist and pharmacologist John Fernstrom --partnering with AARP-- present the ultimate guide to food and medicine interaction. Millions of Americans take prescription drugs to treat diabetes, high blood pressure, heart disease, or other conditions. But beware: The foods you eat and the medications you take could be working against each other. Don't Eat This If You're Taking That takes the mystery out of food and medication interactions. This easy-to-use guide details foods that can interfere with the action of the medication--whether taken for the short or long term. In this book, readers can easily find a medication, see what foods to avoid, and make smart swaps. We all believe a diet rich in colorful fruits and vegetables, lean proteins, whole grains, and low-fat dairy products is part of healthy eating--right? Not always. Dr. Fernstrom explains exactly what foods to avoid when and why. For instance, If you're taking cholesterol medicine, you should cut out--or cut down on--grapefruit.
On warfarin? Avoid dark green veggies.
If you're on thyroid medication, nix the soy.
And more small diet changes with big health payoffs
As an added bonus, each chapter offers a "Dietary Supplements Alert" box, providing the most up-to-date information on interactions with vitamins, minerals, and other dietary supplements. With this concise, scientifically based guide, consumers can easily personalize their eating plan to work with, not against, their medications.
About the Author
Madelyn Fernstrom, PhD, CNS, is a national health expert, neuroscientist, and nutritionist. She is the on-air NBC News and Today show health and nutrition editor. She is also a contributor to Today.com. An award-winning clinician, she has published more than one hundred research papers and several books, including The Real You Diet and The Runner's Diet. John Fernstrom, PhD, is a nationally renowned and award-winning neuroscientist and pharmacologist. He is a world expert on the effects of foods and drugs on brain function. He is professor of psychiatry, pharmacology, and chemical biology at the University of Pittsburgh School of Medicine. He is the author of more than two hundred scientific papers and the editor of several books.