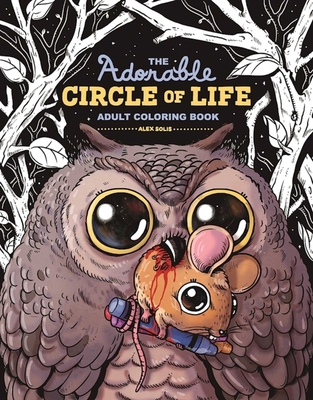 The Adorable Circle of Life Adult Coloring Book
Paperback

* Individual store prices may vary.
Description
Predators get a pretty bad rap. Sure, they prey on helpless animals that never stand a chance. But behind those jagged teeth, powerful jaws, and razor-sharp claws, every predator has a softer side. Maybe even an adorable one.

Everyone has compassion for the cute bunny or lamb. But what about their predators who are working hard for their meal? Capturing their prey is a life or death game. Just think about the last time you had to hunt for food while hangry. You can understand, right?

With thirty adorably dark scenes of nature, illustrator Alex Solis shares his sense of humor while giving you a chance to color in the most gruesome parts of life with a smile.

It's time to give theses predators a break! Because, in the end, both predators and their prey play a role. I mean, it's not their fault they were made this way! They're just living off of instincts; doing what comes naturally to them. So rather than turning away from nature, let's celebrate all the animals who complete The Adorable Circle of Life Adult Coloring Book!
Skyhorse, 9781510715745, 64pp.
Publication Date: May 2, 2017
About the Author
Alex Solis is an illustrator and designer, as well as a full-time husband and father. Solis is bridging cultural gaps with the universal language of art, as can be seen in his viral art series, including "Famous Chunkies," "Icons Unmasked," and the "Adorable Circle of Life." You can see all his work online at oddworx.com.