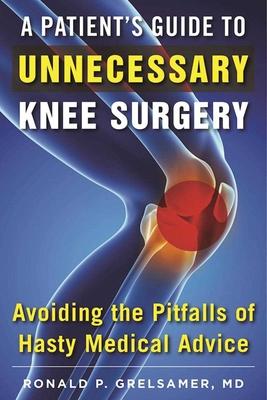 A Patient's Guide to Unnecessary Knee Surgery (Paperback)
How to Avoid the Pitfalls of Hasty Medical Advice
Skyhorse, 9781510716872, 232pp.
Publication Date: April 11, 2017
* Individual store prices may vary.
Description
Every year millions of Americas are told by an orthopedic surgeon that the only way to successfully get rid of their knee pain is to undergo some form of knee surgery. But so many of these procedures could have been avoided if the patient was fully informed regarding all the intricacies of his or her condition.

In The Patient's Guide to Unnecessary Knee Surgery, respected orthopedic surgeon Ronald P. Grelsamer intricately and accessibly conveys all the information regarding the knee and surrounding areas that any person suffering from knee pain would ever need to know in order to make an informed decision about treatment for his or her condition. Within this guide, you'll find chapters on pertinent topics such as:

• Reasons behind some of the leading causes of knee pain
• Tips on how to understand the results of an MRI
• Exercises to boost your knee health
• Advice on how to find the best doctor for your needs
• And ten other areas of knee-related health

So if you're suffering from knee pain, make sure to you grab The Patient's Guide to Unnecessary Knee Surgery before you decide to undergo surgery.
About the Author
Ronald P. Grelsamer, MD, is a clinical associate professor of orthopedic surgery at the Icahn School of Medicine at the Mount Sinai Medical Center in New York. With more than seventy publications to his name, Grelsamer is the author of The Patella: A Team Approach, , The Columbia Presbyterian Osteoarthritis Handbook, What Your Doctor May NOT Tell You About Knee Pain and Surgery, and What Your Doctor May NOT Tell You About Hip and Knee Replacement Surgery. Grelsamer lives in New York City.
Praise For A Patient's Guide to Unnecessary Knee Surgery: How to Avoid the Pitfalls of Hasty Medical Advice…
"Everyone needs to read this book to avoid unnecessary surgery. Dr. Grelsamer's writing style makes this an easy useful read with easily retained knowledge." —Lewis G. Maharam, MD, FACSM, aka Running Doc, past president of GNYRC American College of Sports Medicine

"Dr. Grelsamer's book will help patients navigate the confusing and at times conflicting advice given by doctors about knee injuries and their treatment. His advice is timely, easy to understand, and laced with humor and wit. Along the way he gives advice on how to keep your knees happy and healthy." —Elizabeth Arendt, MD

"I enthusiastically recommend this book to anyone who has a knee—if it doesn't hurt now, the odds are it will. It should also be required reading for all med students, primary care docs, and especially first-year orthopedic residents." —Alan Merchant, MD

"Dr. Grelsamer's comprehensive and authoritative book is a must read for anyone contemplating knee surgery." —Beth Shubin-Stein, MD

"In A Patient's Guide to Unnecessary Knee Surgery, Dr. Grelsamer has assembled a wealth of practical knowledge for patients who find themselves with a knee problem and don't know where to start looking for answers. . . . This affords the patient a well-rounded discussion of treatment options and allows me a fully informed patient—the key to moving forward together improve their knee condition." —Jack Farr, MD

"Dr. Grelsamer has written the comprehensive and honest guide for patients who have knee problems. His book should be a must read for all who have experienced knee problems and for anyone who plans to see a knee specialist for evaluation and treatment." —Phillip Bauman, MD

"Everyone needs to read this book to avoid unnecessary surgery. Dr. Grelsamer's writing style makes this an easy useful read with easily retained knowledge." —Lewis G. Maharam, MD, FACSM, aka Running Doc, past president of GNYRC American College of Sports Medicine

"Dr. Grelsamer's book will help patients navigate the confusing and at times conflicting advice given by doctors about knee injuries and their treatment. His advice is timely, easy to understand, and laced with humor and wit. Along the way he gives advice on how to keep your knees happy and healthy." —Elizabeth Arendt, MD

"I enthusiastically recommend this book to anyone who has a knee—if it doesn't hurt now, the odds are it will. It should also be required reading for all med students, primary care docs, and especially first-year orthopedic residents." —Alan Merchant, MD

"Dr. Grelsamer's comprehensive and authoritative book is a must read for anyone contemplating knee surgery." —Beth Shubin-Stein, MD

"In A Patient's Guide to Unnecessary Knee Surgery, Dr. Grelsamer has assembled a wealth of practical knowledge for patients who find themselves with a knee problem and don't know where to start looking for answers. . . . This affords the patient a well-rounded discussion of treatment options and allows me a fully informed patient—the key to moving forward together improve their knee condition." —Jack Farr, MD

"Dr. Grelsamer has written the comprehensive and honest guide for patients who have knee problems. His book should be a must read for all who have experienced knee problems and for anyone who plans to see a knee specialist for evaluation and treatment." —Phillip Bauman, MD
or
Not Currently Available for Direct Purchase