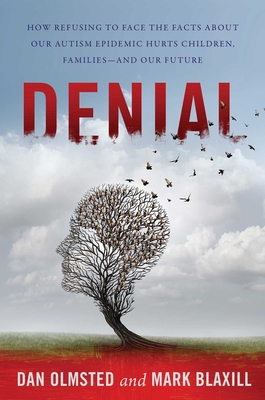 Denial
How Refusing to Face the Facts about Our Autism Epidemic Hurts Children, Families, and Our Future
Hardcover

* Individual store prices may vary.
Description
Even as the autism rate soars and the cost to our nation climbs well into the billions, a dangerous new idea is taking hold: There simply is no autism epidemic.

The question is stark: Is autism ancient, a genetic variation that demands acceptance and celebration? Or is it new and disabling, triggered by something in the environment that is damaging more children every day?

Authors Mark Blaxill and Dan Olmsted believe autism is new, that the real rate is rising dramatically, and that those affected are injured and disabled, not merely "neurodiverse." They call the refusal to acknowledge this reality Autism Epidemic Denial. This epidemic denial blocks the urgent need to confront and stop the epidemic and endangers our kids, our country, and our future.

The key to stopping the epidemic, they say, is to stop lying about its history and start asking "who profits?" People who deny that autism is new have self-interested motives, such as ending research that might pinpoint responsibility—and, most threateningly, liability for this man-made epidemic.

Using ground-breaking research, the authors definitively debunk best-selling claims that autism is nothing new—and nothing to worry about.
Skyhorse, 9781510716940, 224pp.
Publication Date: July 25, 2017
About the Author
Mark Blaxill is the father of a daughter diagnosed with autism. He has authored peer-reviewed articles on time trends in autism and founded advocacy groups to spur action. He co-wrote two books with Dan Olmsted—The Age of Autism and Vaccines 2.0—and is editor with Dan Olmsted of the widely read AgeofAutism.com. He received degrees from Princeton University and the Harvard Business School. He resides in Cambridge, Massachusetts.

Dan Olmsted was an award-winning journalist, co-editor of AgeOfAutism.com, and co-author, with Mark Blaxill, of two books. He was a former editor at USA Today, USA Weekend, and United Press International and a graduate of Yale University.
or
Not Currently Available for Direct Purchase