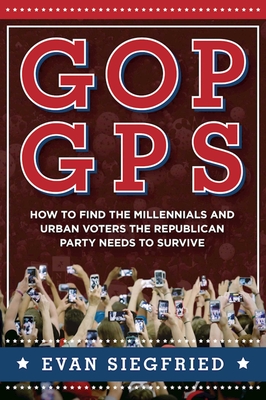 GOP GPS (Hardcover)
How to Find the Millennials and Urban Voters the Republican Party Needs to Survive
Skyhorse, 9781510717329, 256pp.
Publication Date: August 23, 2016
* Individual store prices may vary.
Description
Editors' Pick for the Conservative Book Club

A roadmap to the future for Republicans

With each passing election cycle, Republicans face stiffer and stiffer odds for winning elections at all levels. They have long relied on a combination of Baby Boomers and rural voters to propel them to victory in races for office. However, both of these populations will decline in the future. At the same time, the ranks of millennials and urban voters have exploded. Millennials (now the largest generation in the United States) and urban residents (the growing majority of the population) are the two groups that are the key to the future—both for the United States and for any major political party.

Unfortunately, the Republican Party has largely put off bringing these vital groups into the fold. In fact, it faces a real identity crisis with them. Mention the words "GOP" or "Republican" and they immediately react negatively. They see the party and its members as being out of touch and focused on the past. What possible reason should they have to vote for them, or even listen to their ideas?

GOP GPS offers a roadmap for Republicans to win over these key groups, showing how to do so using conservative values and principles. It addresses a wide array of issues, including social justice, education, marriage equality, debt, and the family. It will challenge all and show that the Republican Party is not the caricature the Left or the media make it out to be.
About the Author
Evan Siegfried is a Republican strategist and commentator. He regularly appears on Fox News Channel, CNN, MSNBC, as well as other networks. His commentary has appeared in the New York Times, Wall Street Journal, Washington Post, Daily Beast, Business Insider, New York Post, Daily Caller, Heat Street, and New York Daily News.

Robert A. George, a member of the New York Daily News editorial board, has written about politics and popular culture for more than two decades. His work has appeared in the New York Post, National Review, and the New Republic. His political commentary has appeared on MSNBC, CNN, Fox News and many other media outlets. Robert lives in New York City.
Praise For GOP GPS: How to Find the Millennials and Urban Voters the Republican Party Needs to Survive…
"Donald Trump's comfortable victory in the Electoral College may have convinced many Republicans they need change nothing about the party or its appeal—and they would be wrong. The GOP continues to lose ground with millennials, minorities, and metropolitan voters. These groups are growing in strength, and Republican candidates seem tone-deaf to their concerns. Evan Siegfried gives his fellow partisans a road map to prosperity even as U.S. demographics shift, if only Republicans will follow it."
—Larry J. Sabato, Director, UVA Center for Politics

"I think [Evan is] exactly right."
—Joe Scarborough, co-host of MSNBC's Morning Joe

"Evan Siegfried offers thorough, timely analysis with straightforward solutions that aren't sugar coated, so—trigger warning—some of them may be tough to swallow."
—Owen Brennan, Republican ad maker and former producer at The O'Reilly Factor

"GOP GPS is a Democrat's worst nightmare—and I mean that in the best way possible. Evan Siegfried makes a compelling case for how the GOP can transform itself into a modern day party with broad appeal. For decades, the Democrats have held a monopoly on younger voters and minorities. Siegfried makes it seem possible that this could change. His book should be read by all GOP candidates and consultants out there. They can't win without it."
—Dr. Jessica Tarlov, pollster and political strategist

"GOP GPS is a must-read for anyone who wants to fully understand what the Republican Party must do now right now in order to survive into the future. Evan Siegfried's critical book outlines the changes that are desperately needed in a manner that is both fun to read and eye-opening. Highly recommended!"
—Kristin Tate, columnist and author of Government Gone Wild

"Evan Siegfried brings both the nuts-and-bolts common sense of a political practitioner and an optimistic, prospective vision of how to expand the GOP. Smart, sane (at a time requiring sanity) and funny, Evan is a necessary voice."
—Rick Wilson, GOP strategist

"As a Democratic campaign consultant, I hope that Republicans do not read GOP GPS or take any of Evan Siegfried's advice!"
—Lis Smith, Democratic Party strategist

"[GOP GPS] is meant to help the party wake up and claw its way out of deadly quicksand. . . . Siegfried argues that just as critics need to dump the 'caricature' of the millennial as nothing more than the 'pajama-wearing, pot-smoking kid living in their mom's basement,' the GOP needs to shake its reputation as the 'party of the crusty old white man.'"
—Mic

"[Siegfried explains] how the Republican Party can gain millennial and urban support and capture a future presidency after a tumultuous 2016 election cycle concludes."
—Business Insider

"In his recent book, GOP GPS, Siegfried made the case that the Republican Party cannot survive without doing more to reach millennial and 'urban' voters."
—Yahoo News

"Evan Siegfried offers direction and hope for the GOP."
—Paradox Project

"Siegfried offered a Republican roadmap to victory without abandoning conservative values."
—Opportunity Lives

"The rise of Trump has made Siegfried's advice more urgent than ever before." —New Zealand Sunday Star Times

"GOP GPS is a brilliant, provocative and persuasive exploration of how the Republican Party should adapt to survive in the 21st Century. Evan Siegfried presents a roadmap that is refreshing and forthright, as well as must read for those who want to continue the ideals of individual freedom in America."
—Joe Lhota, GOP candidate for mayor of New York City, 2013 and former chairman and CEO of the Metropolitan Transportation Authority

"Evan perfectly examines how conservatism must adapt in order to be a viable political philosophy for future generations. He has the rare ability to combine intelligence and levity not seen since the days of William F Buckley."
—Ben Kissel, comedian, political commentator, and podcaster

"Evan Siegfried is a Republican and millennial thought leader. His approach to politics and governing is reasonable, accessible and engaging."
—Carrie Sheffield, contributor to Forbes and founder of Bold

"Must-read! GOP GPS is a clear and concise appraisal of where the Republican Party stands today and where it should go in order to survive in the twenty-first century. Siegfried combines both wit and ideas to lay out a strong vision for Republicans."
—Naveed Jamali, author of How to Catch a Russian Spy

"The Republican Party in the past led the way in ensuring that blacks, who had been demoralized by the intuitions of slavery, became empowered citizens. There is no reason why the same Party, in today's society, can't reclaim that mantle again. GOP GPS endeavors to help the party do just that."
—Richard Ivory, founder and publisher of the blog, Hip-Hop Republican

"GOP GPS provides a look at opportunities for the Republican Party to compete for millennial votes, even beyond college students, as an alternative to ignoring the entire voting bloc. Siegfried makes the case that it is vitally important that the GOP not become complacent after Trump's victory, lest they risk losing the support of millennial and urban voters permanently." —Campus Reform

"Donald Trump's comfortable victory in the Electoral College may have convinced many Republicans they need change nothing about the party or its appeal—and they would be wrong. The GOP continues to lose ground with millennials, minorities, and metropolitan voters. These groups are growing in strength, and Republican candidates seem tone-deaf to their concerns. Evan Siegfried gives his fellow partisans a road map to prosperity even as U.S. demographics shift, if only Republicans will follow it."
—Larry J. Sabato, Director, UVA Center for Politics

"I think [Evan is] exactly right."
—Joe Scarborough, co-host of MSNBC's Morning Joe

"Evan Siegfried offers thorough, timely analysis with straightforward solutions that aren't sugar coated, so—trigger warning—some of them may be tough to swallow."
—Owen Brennan, Republican ad maker and former producer at The O'Reilly Factor

"GOP GPS is a Democrat's worst nightmare—and I mean that in the best way possible. Evan Siegfried makes a compelling case for how the GOP can transform itself into a modern day party with broad appeal. For decades, the Democrats have held a monopoly on younger voters and minorities. Siegfried makes it seem possible that this could change. His book should be read by all GOP candidates and consultants out there. They can't win without it."
—Dr. Jessica Tarlov, pollster and political strategist

"GOP GPS is a must-read for anyone who wants to fully understand what the Republican Party must do now right now in order to survive into the future. Evan Siegfried's critical book outlines the changes that are desperately needed in a manner that is both fun to read and eye-opening. Highly recommended!"
—Kristin Tate, columnist and author of Government Gone Wild

"Evan Siegfried brings both the nuts-and-bolts common sense of a political practitioner and an optimistic, prospective vision of how to expand the GOP. Smart, sane (at a time requiring sanity) and funny, Evan is a necessary voice."
—Rick Wilson, GOP strategist

"As a Democratic campaign consultant, I hope that Republicans do not read GOP GPS or take any of Evan Siegfried's advice!"
—Lis Smith, Democratic Party strategist

"[GOP GPS] is meant to help the party wake up and claw its way out of deadly quicksand. . . . Siegfried argues that just as critics need to dump the 'caricature' of the millennial as nothing more than the 'pajama-wearing, pot-smoking kid living in their mom's basement,' the GOP needs to shake its reputation as the 'party of the crusty old white man.'"
—Mic

"[Siegfried explains] how the Republican Party can gain millennial and urban support and capture a future presidency after a tumultuous 2016 election cycle concludes."
—Business Insider

"In his recent book, GOP GPS, Siegfried made the case that the Republican Party cannot survive without doing more to reach millennial and 'urban' voters."
—Yahoo News

"Evan Siegfried offers direction and hope for the GOP."
—Paradox Project

"Siegfried offered a Republican roadmap to victory without abandoning conservative values."
—Opportunity Lives

"The rise of Trump has made Siegfried's advice more urgent than ever before." —New Zealand Sunday Star Times

"GOP GPS is a brilliant, provocative and persuasive exploration of how the Republican Party should adapt to survive in the 21st Century. Evan Siegfried presents a roadmap that is refreshing and forthright, as well as must read for those who want to continue the ideals of individual freedom in America."
—Joe Lhota, GOP candidate for mayor of New York City, 2013 and former chairman and CEO of the Metropolitan Transportation Authority

"Evan perfectly examines how conservatism must adapt in order to be a viable political philosophy for future generations. He has the rare ability to combine intelligence and levity not seen since the days of William F Buckley."
—Ben Kissel, comedian, political commentator, and podcaster

"Evan Siegfried is a Republican and millennial thought leader. His approach to politics and governing is reasonable, accessible and engaging."
—Carrie Sheffield, contributor to Forbes and founder of Bold

"Must-read! GOP GPS is a clear and concise appraisal of where the Republican Party stands today and where it should go in order to survive in the twenty-first century. Siegfried combines both wit and ideas to lay out a strong vision for Republicans."
—Naveed Jamali, author of How to Catch a Russian Spy

"The Republican Party in the past led the way in ensuring that blacks, who had been demoralized by the intuitions of slavery, became empowered citizens. There is no reason why the same Party, in today's society, can't reclaim that mantle again. GOP GPS endeavors to help the party do just that."
—Richard Ivory, founder and publisher of the blog, Hip-Hop Republican

"GOP GPS provides a look at opportunities for the Republican Party to compete for millennial votes, even beyond college students, as an alternative to ignoring the entire voting bloc. Siegfried makes the case that it is vitally important that the GOP not become complacent after Trump's victory, lest they risk losing the support of millennial and urban voters permanently." —Campus Reform