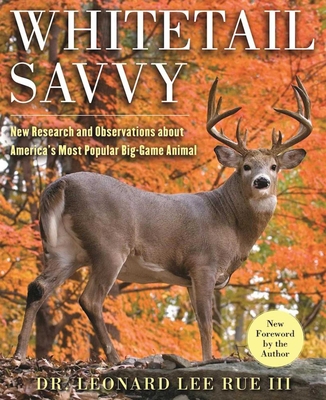 Whitetail Savvy (Paperback)
New Research and Observations about the Deer, America's Most Popular Big-Game Animal
Skyhorse, 9781510717411, 336pp.
Publication Date: August 1, 2017
Other Editions of This Title:
Hardcover (9/3/2013)
* Individual store prices may vary.
Description
Comprehensively Researched, Magnificently Photographed Although the whitetail population is at an all-time high, the lives of North America's most abundant and controversial deer are still shrouded in mystery. So few whitetail activities are ever witnessed that many unique traits, social habits, and day-to-day experiences have gone undocumented—until now. Here, renowned wildlife author–photographer Dr. Leonard Lee Rue III shares his lifelong research. Blending unrivaled knowledge, the latest scientific research, and personal anecdotes and observations with over 250 astounding photographs, Rue brings to life the secret world of the whitetails. From the classifications of the Cervidae family to field dressing a deer, from the science behind tree rubs to the number of spots on a fawn's coat, Rue explains every conceivable aspect of these popular and spirited large mammals. This book is a must for anyone interested in whitetails: nature buffs, deer lovers, deer haters, wildlife managers, homeowners, photographers, highway troopers, and—not least—deer hunters. Full of never-before-published facts, observations, and intricate details, Whitetail Savvy is truly the indispensable guide for understanding, respecting, and preserving the future of this majestic species.
About the Author
Dr. Leonard Lee Rue III has lived in the outdoors among the creatures that he photographs and writes about for most of his life. For several decades, he was the most published wildlife photographer in North America, with more than 1,800 magazine covers to his credit. He is the author of thirty books on wildlife, including The Deer of North America and The Way of the Whitetail, and writes monthly columns for Deer and Deer Hunting and Whitetail Times magazines. In 1997, he received a Lifetime Achievement Award from the North American Nature Photography Association (NANPA). Rue resides in Hardwick, New Jersey.