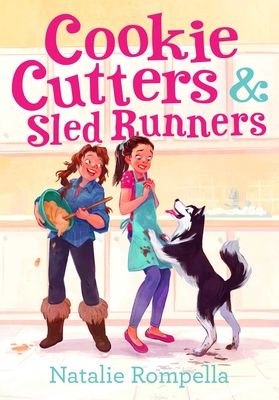 Cookie Cutters & Sled Runners
Hardcover

* Individual store prices may vary.
Other Editions of This Title:
Paperback (1/28/2020)
Description
1 girl with 1 best friend
1 middle school project
3 huge, slobbery dogs
A recipe for success . . . or disaster?

Most kids would dread the start of middle school and the year-long Explorations project that comes with it, but Ana knows that her + her best friend Lily + their plan to write and sell their own cookbook is a recipe for success. Lily's not just the perfect partner in culinary crime—she's also the only person in the world who understands Ana's need to wash her hands five times before picking up a spatula, and would never make fun of her for it.

But Ana and Lily's plan for edible entrepreneurship turns into one big baking disaster when they're assigned to different partners for their projects. As if it wasn't bad enough that Lily seems more excited to get to know her new partner than bummed about being separated, Lily and her new friend plan to use the cookbook idea for themselves—and they didn't even ask! Worse, Ana's partner is Dasher, the strange new girl from Alaska, and she wants to do their project on the weirdest thing imaginable: sled dog racing.

Dasher's dogs are scary, slobbery, and decidedly not germ-free, but Ana thinks she's found a loophole when she agrees to bake pancakes for spectators while Dasher mushes in a local race. That is, until Dasher sprains her ankle and has to drop out of the running. Can Ana learn to mush—and overcome her anxiety—in time to save her friendships, finish her project, and compete in the big race?
Praise For Cookie Cutters & Sled Runners…
"Soup-to-nuts fun, with plenty of heart and a dash of race-paced excitement!"
—Martha Freeman, author of the Secret Cookie Club series

"The characters leap off the page in this delightful story of friendship, loyalty, and fresh-baked cookies. Add in a complicated narrator, an unusual sport, and some adorable dogs, and you have the recipe for an irresistible read!"
—Kate Hannigan, author of the Cupcake Cousins series

"Author Natalie Rompella presents flawed but lovable characters with issues familiar to all middle school survivors—changing friendships, tricky teachers, and parental expectations. At the same time, she doesn't sugarcoat the challenge of living with obsessive compulsive disorder. To face her problems, OCD included, Ana needs a ton of bravery, a lot of determination, and a sprinkling of kindness from her friends. Grab a cookie and curl up with a furry friend to read this gem."
—Beth Vrabel, author of Caleb and Kit, Pack of Dorks, and A Blind Guide to Stinkville

"It is always a delight to see OCD addressed in junior fiction, and Rompella handles it perfectly in this fun and accessible story of friendship and its many challenges and rewards. Readers will connect immediately with Ana, not to mention the novel's great message: that we are all a little weird until you get to know us, and that's what makes life interesting."
—Wesley King, author of OCDaniel

"A sweet and satisfying tale that will help kids find ways to tackle their own challenges."
—Lisa Ann Scott, author of School of Charm, Back on the Map, and the Enchanted Pony Academy series

"Wonderful representation of OCD and a refreshingly unique take on the 'adjusting to middle school and changing friendships' storyline! . . . Highly, highly recommend for elementary and middle school collections."
—The Loud Library Lady
Sky Pony, 9781510717718, 272pp.
Publication Date: November 21, 2017
About the Author
Natalie Rompella is the author of more than forty books and educational guides for young readers, and the winner of a Work-in-Progress grant from the Society for Children's Book Writers and Illustrators for an early version of Cookie Cutters & Sled Runners. Just like Ana, Natalie loved baking in sixth grade, and as an adult she fell in love with sled dog racing—watching it, that is! A former museum educator and elementary and middle school teacher, Natalie lives with her family in Libertyville, Illinois.