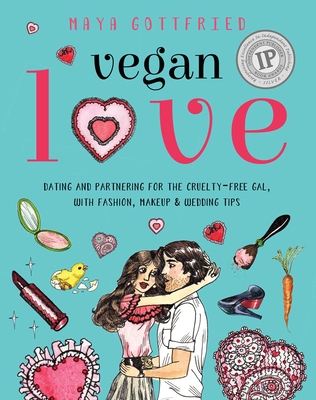 Vegan Love
Dating and Partnering for the Cruelty-Free Gal, with Fashion, Makeup & Wedding Tips
Paperback

* Individual store prices may vary.
Description
2018 IPPY Silver Award Winner in Sexuality/Relationships

In ever-increasing numbers, people around the world are opting for a vegan lifestyle (eating a plant-based diet and eschewing animal products such as leather), and those who do report feeling happy and healthier, with boundless energy and glowing skin among the benefits. But what happens when their love interest unapologetically orders a steak on a date?

Vegan Love offers guidance on how to spread the vegan love and bring compassion for all beings into one's romantic life. Going cruelty-free need not mean alienating potential partners or long-term lovers. Author Maya Gottfried shares her experiences of going vegan and playing the vegan dating game, as well as insights by notable vegan women, both straight and LGBT, from various walks of life, including Jane Velez-Mitchell of JaneUnchained.com; Marisa Miller Wolfson of the film Vegucated; Jasmin Singer, author of Always Too Much and Never Enough; and Colleen Patrick-Goudreau of the Food for Thought podcast.

Vegan Love also features a wealth of fun, practical advice about vegan makeup, vegan clothes, and vegan weddings, with a detailed resource guide.
Praise For Vegan Love: Dating and Partnering for the Cruelty-Free Gal, with Fashion, Makeup & Wedding Tips…
"The tool you need to navigate the world of vegan relationships . . . Vegan Love is a practical guide for single vegan women who are looking for love, but it's also a means of support for those already in committed relationships. However, the deeper purpose of the book is key: It will help you develop the skills to give love, compassion, and respect on every level, and this will spill over into your romantic life." —PETA

"Vegan Love is one of the most informative and knowledgeable books written on the subject of not only being vegan, but how to live vegan. It is a true celebration of all life—respectful on every level. Full of fun and joy." —James Van Praagh, #1 New York Times bestselling author and spiritual teacher

"Including her own experiences as well as that of 30 other vegan women and their partners, the book contains advice ranging from where to meet people (vegan charity events, vegetable festivals and searching for vegans on dating apps are a good idea) [to] date and where to shop for vegan-free clothing and make-up." —the Independent

". . . we ate up the book's whimsical illustrations, first-date stories, internet-dating snafus, and helpful tips on cohabiting with significant others of all dietary persuasions." —VegNews

"Whether it's advice, great food, or a fashion find, Maya Gottfried is the friend who's always there for you with compassion and a new way of looking at something. You'll be hard-pressed to read this book and not feel like Maya has done you a solid." —Tracey Stewart, author of Do Unto Animals: A Friendly Guide to How Animals Live, and How We Can Make Their Lives Better

"Vegan Love is a thoughtful, practical, timely guide to help vegans navigate the challenging terrain of finding rewarding relationships in a not-yet vegan world." —Jonathan Balcombe, author of What a Fish Knows

"Maya Gottfried's delightful book Vegan Love offers great support for those seeking help in navigating romantic relationships while maintaining a cruelty-free lifestyle. Maya reveals that by staying true to our love for animals, we often inspire those around us to live more compassionately. Fun, honest, and informative, Vegan Love shows that our authenticity benefits both the animals and our relationships." —Gene Baur, president and cofounder of Farm Sanctuary and author of Farm Sanctuary and Living the Farm Sanctuary Life

"Adopting a vegan lifestyle can cause tension with friends and relatives. This is especially true in love relationships. Vegans and those considering veganism will find support and answers to their questions in Maya Gottfried's book." —Élise Desaulniers, author of Cash Cow: Ten Myths about the Dairy Industry

"Everything you need for falling in love, getting hitched, and living happily ever after vegan-style! Whether your soulmate is vegan, veg-curious, or not yet either, true love will find a way and Maya Gottfried helps it along in this delightful book that draws on the experience of vegans who've found that romantic bliss can coexist beautifully with scrambled tofu and leafy greens." —Victoria Moran, author and podcaster, Main Street Vegan

"Be gone vegan myths! Author Maya Gottfried shows us just how easy it is to integrate veganism into our everyday lives. Vegan Love offers great advice for new vegans and those new to the dating scene, too. A very powerful book." —Stacey Wolf James, author of the wedding planning guide Never Throw Rice at a Pisces

"Practical, probing, and poignant, Maya Gottfried's latest book is a gift to all women who are embracing the vegan lifestyle. Filled with insight, guidance, and resources, this is a go-to book that sheds light on love and the vegan path. A wonderful contribution and a great read. Hats off to Maya!" —Amy Hatkoff, author of The Inner World of Farm Animals: Their Amazing Social, Emotional, and Intellectual Capacities
Skyhorse, 9781510719453, 208pp.
Publication Date: April 18, 2017
About the Author
Maya Gottfried is the author of the acclaimed children's books Our Farm: By the Animals of Farm Sanctuary and Good Dog. She has also written for print and online publications ranging from the Huffington Post to Lilith Magazine, often focusing on the topics of veganism and animal rights. Maya has also worked in public relations for an international animal welfare organization. She resides just outside New York City with her partner and their three adopted cats.
or
Not Currently Available for Direct Purchase