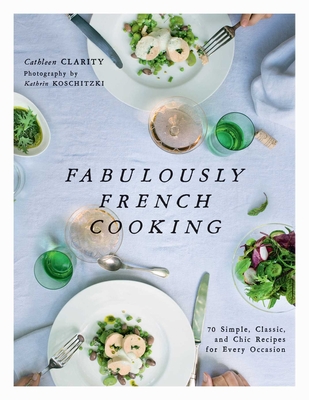 Fabulously French Cooking (Hardcover)
70 Simple, Classic, and Chic Recipes for Every Occasion
Skyhorse, 9781510721135, 216pp.
Publication Date: July 4, 2017
* Individual store prices may vary.
Description
With twelve fabulous menus and seventy refined dishes, Chef Cathleen Clarity and food photographer Kathrin Koschitzki will teach you how to conjure the taste of France in your home kitchen.

In Fabulously French Cooking, you will find French foods for every occasion as well as instructions and professional advice on prepping, cooking, and flawlessly (and easily!) entertaining year-round. Whether you're throwing a celebration for the autumn harvest, having friends over for a Saturday night feast, or offering a delectable lunch for the ladies during the week, Clarity and Koschitzki have you covered.

Accompanied by elegant photographs, as well as introspective stories straight from Chef Clarity's kitchen, the recipes in this collection include:

Slow-roasted veal loin with chanterelles and almonds
Mango Litchi smoothies
Sea Bream tartar with spring onions
Cote de boeuf with roasted new potatoes
Fig and red grape galette
And more!
About the Author
Cathleen Clarity is a trained chef who moved to Paris from the mid-western United States. She writes for the American lifestyle magazine Kinfolk and continues to teach cooking classes where she resides in Paris, France.

Kathrin Koschitzki moved to Paris after studying photo design, and there she completed the Anglo Patisserie program at the Ferrandi, l'ecole francaise de gastronomie. She works as a freelance photographer in Germany and combines her two passions of photography and pastries on her blog Photisserie. She resides in Paris, France.
Praise For Fabulously French Cooking: 70 Simple, Classic, and Chic Recipes for Every Occasion…
"Cathleen Clarity fell in love with food and cooking with the seasons in France, just as I did! Then, with a purist's sensibility, she embraced her passion for cooking and developed it into a love of teaching. As an author, she captures the spirit of simple delicious menus in this beautiful debut cookbook." —Alice Waters, award-winning author, food activist, and founder of Chez Panisse "Cathleen Clarity's Fabulously French Cooking shows off her strength, determination, and soul through a refreshing mix of traditional and modern French recipes. The menus in this book will bring people together in the very best ways. Bravo, Chef!" —Sébastien de Massard, culinary instructor, Ferrandi, L'Ecole Française de Gastronomie "Cathleen's passion for teaching shines through every page of this gorgeous book, and the vibrant recipes she offers will transport you straight to the French kitchen of your dreams." —Clotilde Dusoulier, author of the blog Chocolate & Zucchini and The French Market Cookbook "Fabulously French Cooking embraces a love of entertaining and the joy of preparing food that brings family and friends together. Paired with an adoration of fresh vegetables and whole foods, this cookbook is a testament to the power (and fabulousness!) of French cooking." —Emily Dilling, author of My Paris Market Cookbook

"Cathleen Clarity fell in love with food and cooking with the seasons in France, just as I did! Then, with a purist's sensibility, she embraced her passion for cooking and developed it into a love of teaching. As an author, she captures the spirit of simple delicious menus in this beautiful debut cookbook." —Alice Waters, award-winning author, food activist, and founder of Chez Panisse "Cathleen Clarity's Fabulously French Cooking shows off her strength, determination, and soul through a refreshing mix of traditional and modern French recipes. The menus in this book will bring people together in the very best ways. Bravo, Chef!" —Sébastien de Massard, culinary instructor, Ferrandi, L'Ecole Française de Gastronomie "Cathleen's passion for teaching shines through every page of this gorgeous book, and the vibrant recipes she offers will transport you straight to the French kitchen of your dreams." —Clotilde Dusoulier, author of the blog Chocolate & Zucchini and The French Market Cookbook "Fabulously French Cooking embraces a love of entertaining and the joy of preparing food that brings family and friends together. Paired with an adoration of fresh vegetables and whole foods, this cookbook is a testament to the power (and fabulousness!) of French cooking." —Emily Dilling, author of My Paris Market Cookbook