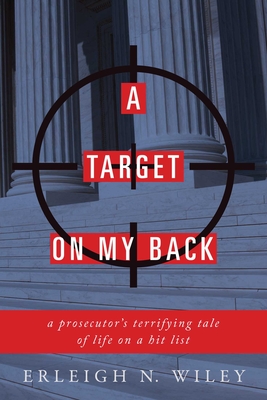 A Target on my Back
A Prosecutor's Terrifying Tale of Life on a Hit List
Hardcover

* Individual store prices may vary.
Description
Murders don?t happen in Kaufman County, Texas, a sleepy community where people raise their kids quietly and drive into Dallas for work and entertainment. In 2013, murder came to town when two professional prosecutors were slain in cold blood, simply for doing their jobs: one in broad daylight in plain view of the courthouse, and one in his home, along with his wife. Eric Williams is responsible for all the bloodshed?and he has a list of who to kill next.

A Target on My Back is the first-person true story of Erleigh Wiley, an accomplished lawyer who accepted the job as the new district attorney?after the death of her predecessors?which turned her into the next target on the killer's hit list. This is her story of how she and her family endured the storm of the press, the array of Homeland Security agents assigned to protect them 24/7, and the weight of knowing she was someone?s prey. Though fearing for her life, she served as the prosecution's final witness against the murderer, sealing his fate on death row. This chilling account of how she survived the hit list is a terrifying cat and mouse tale.
Praise For A Target on my Back: A Prosecutor's Terrifying Tale of Life on a Hit List…
"A legal thriller with a twist: a crazed lawyer and his wife, believing they have been wronged, become a modern-day Bonnie and Clyde and go on a terrifying murder spree. Next on their kill list is the new DA, and her courage in confronting the killers makes this a fascinating read." —Dennis L. Breo, coauthor of The Crime of the Century: Richard Speck and the Murders That Shocked a Nation
"When murder comes to her town, Erleigh Wiley steps into the shoes of the slain district attorney and finds herself on the killer's hit list. In A Target on My Back, Wiley tells her personal story of overcoming fear in order to carry out her duty to hold Kaufman County, Texas, together while the killer is brought to justice. Don't miss it!" —Mike Farris, author of A Death in the Islands: The Unwritten Law and the Last Trial of Clarence Darrow
"Erleigh Wiley is one fearless prosecutor. . . . Her courage in this deadly crisis inspired both Texas and the nation." —Bill Wirskye, Second District Attorney for Collin County, Texas
"A Target on my Back is a unique first-person look into the world of crime-fighting in which the tables have been turned. The author takes the reader on an all-too-real journey into what it means to stand for justice when your very life is in danger. A must-read!" —Robert Kepple, executive director of the Texas District and County Attorneys Association
"A Target on Back captures Erleigh Wiley's journey as a judge then district attorney in Kaufman County, Texas, and the risks that all in law enforcement face every day of their lives." —Robert Champion, retired special agent in charge, ATF
"John Grisham and Scott Turow had better start looking over their shoulders. . . . Wiley's engaging, nimble style immediately draws you into the action and proves that sometimes truth really is stranger than fiction. It's a good thing for us all that she lived to tell about it!" —David Dean, Dallas attorney, former Texas secretary of state and chair of the North Texas Crime Commission
"A vivid first-person account of living with danger and armed security twenty-four hours a day." —David A. Byrnes, Kaufman County sheriff, retired; Texas Rangers captain, retired
Skyhorse, 9781510721708, 176pp.
Publication Date: October 3, 2017
About the Author
Erleigh N. Wiley has been a prosecutor for almost twenty years, spending her career protecting victims of crimes. Before being appointed by the governor of Texas to fill the position of the slain district attorney in Kaufman County, she was a judge for ten years.
or
Not Currently Available for Direct Purchase