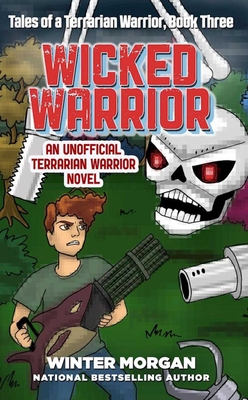 Wicked Warrior (Paperback)
Tales of a Terrarian Warrior, Book Three
Sky Pony Press, 9781510721951, 112pp.
Publication Date: January 17, 2017
* Individual store prices may vary.
Description
Miles likes being on his own, battling zombies and bats on his way to defeat The Destroyer. Then he meets Owen, new to hardmode, and looking to partner up with Miles. Owen is a really strong fighter, and Miles could actually win the Bucket of Bolts, by defeating the Detroyer AND Skeletron Prime and The Twins. They work well together...until shady Asher suddenly appears, wanting to join them too. And that's when things get tricky - and life-threatening. This adventure series is created especially for readers who love the fight of good vs. evil, magical academies like Hogwarts in the Harry Potter saga, and games like Minecraft, Terraria, and Pokemon GO.
About the Author
Winter Morgan is the author of numerous children's books including national bestseller The Quest for the Diamond Sword, the bestselling unofficial Minecraft story published by Sky Pony Press. She is the author of five series for Minecraft fans: an Unofficial Gamer's Adventure, the Unofficial League of Griefers Adventure, the Lost Minecraft Journals, the Minetrapped Adventure, and the Unofficial Minecrafters Academy. Morgan has a video game-addicted son, who inspires her. She lives in Brooklyn, New York.