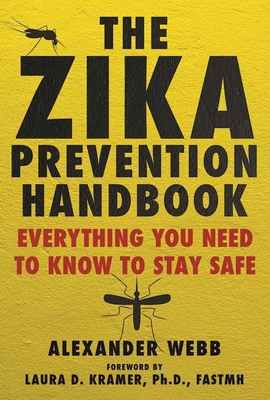 The Zika Prevention Handbook (Hardcover)
Everything You Need To Know To Stay Safe
Skyhorse, 9781510722200, 180pp.
Publication Date: October 25, 2016
* Individual store prices may vary.
Description
As the Zika virus continues to spread throughout North America, people need answers. What are the origins of this virus? How does it spread? Should we be concerned? How can we stop the spread of infected mosquitos? With the increasing prevalence of Zika, concrete answers are needed now more than ever - The Zika Prevention Handbook serves as the best reference for readers to stay informed about side-effects and symptoms, and to minimize your chance of contracting the virus.

The Zika virus is a mosquito-borne infection that is estimated to have originated in Africa in the mid 1940's. In the last several years, the Zika virus has infected thousands of people around the world and has spread to over 60 countries. As of August 2016, Zika-infected mosquitoes have found a new home, the United States. The Zika virus has been reported in all 50 U.S. states, in addition to hundreds of reported cases throughout Mexico and Canada.

With the assistance of infectious disease expert, Laura D. Kramer, PhD, author Alexander Webb has compiled the leading research from the U.S. Centers for Disease Control and Prevention (CDC).

Whether you're an expectant mother worried about microcephaly (a side effect of Zika that causes babies to be born with abnormally small heads), planning a vacation to a tropical area, or living in an area where these contagious mosquitoes reside, this book is guaranteed to answer all your questions and ease your fears. Readers will learn about Zika's origins, transmission of the infection, leading prevention techniques, medical testing, symptoms and diagnosis, and much more.

Do yourself a favor and arm yourself with the life-saving knowledge contained in The Zika Prevention Handbook
About the Author
Alexander Webb is the founder of Take Risks Be Happy, an online magazine for creatives, entrepreneurs, and travelers. He was shortlisted for the 2015 Bracken Bower Prize and was a contributing writer for National Geographic's The Civil War: A Traveler's Guide. His is the co-author of Shock Markets, published by the Financial Times Press, and released in Chinese translation in 2015. He currently lives in San Jose, California.

Laura D Kramer, PhD, FASTMH (Fellow of the American Society of Tropical Medicine and Hygiene), has been studying the ecology, epidemiology and evolution of mosquito-borne viruses for over 40 years. She is currently Director of the Arbovirus Laboratories of the Wadsworth Center, New York State Department of Health and Professor of Biomedical Sciences, School of Public Health, State University of New York at Albany. Her lab conducts surveillance for and research on vector-borne viruses in New York State. Dr. Kramer also is a virology moderator for the Program for Monitoring Emerging Diseases (ProMED-mail). She currently lives in Slingerlands, New York.
or
Not Currently Available for Direct Purchase