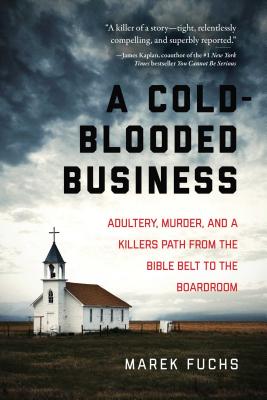 A Cold-Blooded Business (Paperback)
Adultery, Murder, and a Killer's Path from the Bible Belt to the Boardroom
Skyhorse, 9781510722828, 248pp.
Publication Date: February 13, 2018
* Individual store prices may vary.
Description
Years after In Cold Blood, the same town would play host to another graphic murder.
Olathe, Kansas—the same town that played host to the quadruple murder made famous by Truman Capote's In Cold Blood—achieved notoriety again in 1982, when a gentle man named David Harmon was bludgeoned to death while sleeping. David's wife Melinda and best friend Mark were suspected of the brutal murder. But rather than receiving a just penalty, Melinda and Mark walked away without charges being pressed, thanks to a defense by the growing Christian evangelical church in Olathe to which the victim and the suspects all belonged.
Two decades later, two Olathe police officers revived the cold case, making startling revelations that followed the old suspects to their new, separate lives. Melinda lived in suburban Ohio, a devoted wife and mother of two. Mark had become a Harvard MBA, a high-paid corporate mover, a family man, and a respected community member in a wealthy suburb of New York City. But some twenty years after the brutal murder, justice would be served.
Featuring a new afterword from the author, A Cold-Blooded Businessis a chilling exploration into the darkest depths of the human psyche.
About the Author
Marek Fuchs is a teacher, journalist, and volunteer firefighter. After six years as a stockbroker, he became a journalist, in which role he has written columns for the New York Times, the Wall Street Journal, Yahoo Finance, and TheStreet. Fuchs speaks regularly on business and journalism issues, and currently serves as a member of the writing faculty at Sarah Lawrence College. He lives in a loud house with three children in Hastings-on-Hudson, New York.
Praise For A Cold-Blooded Business: Adultery, Murder, and a Killer's Path from the Bible Belt to the Boardroom…
"A killer of a story—tight, relentlessly compelling, and superbly reported."
—James Kaplan, coauthor of the #1 New York Times bestseller You Cannot Be Serious
"Readers will be riveted by Fuchs' debut, which begins with background stories on the major players and testimony by the Harmons' neighbors, but soon moves on to list key components surrounding the case. A breakneck pace is maintained right up to the final pages."
—Kirkus Reviews
"In the tradition of In Cold Blood, this yarn is wonderfully reported, with a terrific sense that only business writer Marek Fuchs can bring to the narrative."
—Jim Cramer, bestselling author and host of Mad Money
"Marek Fuchs has written a penetrating portrayal of twisted lust, eager betrayal, a savage murder, and a small town's long memory. With the drama of a novel and the nuances of a seasoned reporter, he delivers a sober, blood-splashed narrative about justice delayed, but not denied."
—Ron Franschell, bestselling author of The Darkest Night