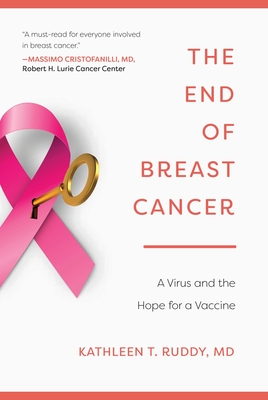 The End of Breast Cancer (Hardcover)
A Virus and the Hope for a Vaccine
Skyhorse, 9781510723016, 296pp.
Publication Date: October 3, 2017
* Individual store prices may vary.
Description
Can a mouse virus cause breast cancer in women? Answering that question has become Dr. Kathleen Ruddy's life's work. The End of Breast Cancer is the landmark book that gives an extraordinary glimpse into the history of breast cancer research, and the findings that support the theory that the virus that causes breast cancer in mice, and has also been found in rats, cats, dogs, and monkeys plays a significant role in 40-94% of human breast cancer. Researchers contend that we are one step away from having final proof of this. Once we know the cause, then we can move forward to develop a preventative vaccine.

The first and only breast cancer specialist to compile this encyclopedic research in one volume, Dr. Ruddy writes: "If there's a virus that causes breast cancer, and a safe and effective vaccine that can prevent this disease, we need to know about it now, not in another 100 years." The End of Cancer represents the culmination of Ruddy's research findings and the breakthroughs that are happening every day to unravel the mystery. We may well witness in our lifetimes the eradication of breast cancer.
About the Author
Kathleen T. Ruddy, MD, is a breast cancer surgeon and one of the doctors on the leading edge of research into the causes of breast cancer. Dr. Ruddy trained at Memorial Sloan Kettering Cancer Center. She was the founder and medical director of the Clara Maass Medical Center for Barnabas Health, is the founder of the Breast Health and Healing Foundation, and is an esteemed member of the Leadership Council of the Harvard School of Public Health. She lives in Madison, New Jersey.
Praise For The End of Breast Cancer: A Virus and the Hope for a Vaccine…
"A must-read for everyone involved in breast cancer." —Dr. Massimo Cristofanilli, Fox Chase Cancer Center

"A woman is diagnosed with breast cancer every 20 seconds somewhere in the world and a woman dies every minute somewhere in the world. It would seem that the real possibility that at least 25% of breast cancer might be caused by a virus would have the scientific world excited, and that organizations like the WHO would be working at break-neck speed to unravel the mystery of MTV and its association with breast cancer. In this book, Dr. Ruddy has presented the latest evidence that MTV is linked to breast cancer in mice and that MTV has been found in large numbers of persons with breast cancer. And I appeal to the WHO, the NIH of the US, public health agencies around the world, Ministers of Health and the scientific community to give consideration to the genuine possibility that the virus is a causative agent of breast cancer in women, at least some of the time. . . . If we can establish the association between breast cancer and MTV, it would go a far way in developing a vaccine and treatment and in prevention of a significant proportion of breast cancer. For this reason alone this book is a welcome new addition in the fight against breast cancer."—Dr. Leslie Ramsammy, former minister of health of Guyana (2001 - 2012) and former president of the World Health Assembly

"This is an energetically written landmark book about the virus that causes breast cancer in mice and may very well do the same in women. Ruddy has given us an extraordinary glimpse into the history of this research that will, no doubt, change the world. We should be grateful to her for it is a noble achievement whose time has come."—Christine Chroner, MD, author of Waking the Warrior Goddess.

"We are deeply engrossed in the research that I've pursued for 20 years, exploring a virus in human breast cancer that is a 'kissing cousin' of the mouse mammary tumor virus [MMTV], the causative agent for breast cancer in mice. Forty percent of American women who present with breast cancer have this virus in their tumor, but not in the normal tissue of the same breast, which thus excludes genetic inheritance. It is acquired. We are working hard to fulfill the criteria that will prove the virus is indeed the cause of these breast cancers." —Dr. James F. Holland, distinguished professor of Neoplastic Diseases, Icahn School of Medicine, Mt. Sinai, New York

"In due course, one could envision, as the ultimate demonstration of a causative link, a vaccination program in unexposed individuals or prepubescent girls that reduced breast cancer incidence." —Dr. John R. Mackey, Cross Cancer Institute, University of Alberta, Alberta, Canada

"We see a need for a consistent protocol for the evaluation of IBC [inflammatory breast cancer] clusters focusing on the laboratory investigation of environmental triggers, primarily infectious agents and chemical carcinogens." —Dr. Paul Levine, The George Washington University School of Public Health and Health Services, Washington, DC.

"MMTV is present in human saliva and salivary glands....These findings confirm the presence of MMTV in humans, strongly suggest saliva as route in inter-human infection, and support the hypothesis of a viral origin for human breast carcinoma." —Dr. Generoso Bevilacqua, Pisa University Hospital, Pisa, Italy

"A clear gradient of samples positive for MMTV-like sequences with increasing severity of breast cancer has been demonstrated." —Dr. Caroline Ford, Prince of Wales Hospital, New South Wales, Australia

"A must-read for everyone involved in breast cancer." —Dr. Massimo Cristofanilli, Fox Chase Cancer Center

"A woman is diagnosed with breast cancer every 20 seconds somewhere in the world and a woman dies every minute somewhere in the world. It would seem that the real possibility that at least 25% of breast cancer might be caused by a virus would have the scientific world excited, and that organizations like the WHO would be working at break-neck speed to unravel the mystery of MTV and its association with breast cancer. In this book, Dr. Ruddy has presented the latest evidence that MTV is linked to breast cancer in mice and that MTV has been found in large numbers of persons with breast cancer. And I appeal to the WHO, the NIH of the US, public health agencies around the world, Ministers of Health and the scientific community to give consideration to the genuine possibility that the virus is a causative agent of breast cancer in women, at least some of the time. . . . If we can establish the association between breast cancer and MTV, it would go a far way in developing a vaccine and treatment and in prevention of a significant proportion of breast cancer. For this reason alone this book is a welcome new addition in the fight against breast cancer."—Dr. Leslie Ramsammy, former minister of health of Guyana (2001 - 2012) and former president of the World Health Assembly

"This is an energetically written landmark book about the virus that causes breast cancer in mice and may very well do the same in women. Ruddy has given us an extraordinary glimpse into the history of this research that will, no doubt, change the world. We should be grateful to her for it is a noble achievement whose time has come."—Christine Chroner, MD, author of Waking the Warrior Goddess.

"We are deeply engrossed in the research that I've pursued for 20 years, exploring a virus in human breast cancer that is a 'kissing cousin' of the mouse mammary tumor virus [MMTV], the causative agent for breast cancer in mice. Forty percent of American women who present with breast cancer have this virus in their tumor, but not in the normal tissue of the same breast, which thus excludes genetic inheritance. It is acquired. We are working hard to fulfill the criteria that will prove the virus is indeed the cause of these breast cancers." —Dr. James F. Holland, distinguished professor of Neoplastic Diseases, Icahn School of Medicine, Mt. Sinai, New York

"In due course, one could envision, as the ultimate demonstration of a causative link, a vaccination program in unexposed individuals or prepubescent girls that reduced breast cancer incidence." —Dr. John R. Mackey, Cross Cancer Institute, University of Alberta, Alberta, Canada

"We see a need for a consistent protocol for the evaluation of IBC [inflammatory breast cancer] clusters focusing on the laboratory investigation of environmental triggers, primarily infectious agents and chemical carcinogens." —Dr. Paul Levine, The George Washington University School of Public Health and Health Services, Washington, DC.

"MMTV is present in human saliva and salivary glands....These findings confirm the presence of MMTV in humans, strongly suggest saliva as route in inter-human infection, and support the hypothesis of a viral origin for human breast carcinoma." —Dr. Generoso Bevilacqua, Pisa University Hospital, Pisa, Italy

"A clear gradient of samples positive for MMTV-like sequences with increasing severity of breast cancer has been demonstrated." —Dr. Caroline Ford, Prince of Wales Hospital, New South Wales, Australia