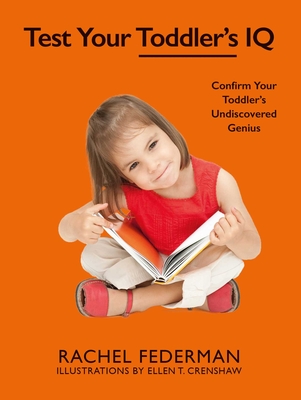 Test Your Toddler's IQ (Hardcover)
Confirm Your Toddler's Undiscovered Genius
Skyhorse, 9781510723290, 128pp.
Publication Date: October 3, 2017
* Individual store prices may vary.
Description
Toddler: emotionally unstable, pint-sized dictator with the uncanny ability to know exactly how far to push you toward utter insanity before reverting to a lovable cuddle monster.

Well done. You've survived the first year of incoherent babble, unexplained crying, and relentless sleep deprivation. Welcome to the toddler years. And good luck. Now that you've had a few seconds to look back on all your accomplishments of the past year, we know you're ready to move forward and consider such pressing questions as:


In baby music class, does little Oscar channel Buddy Rich on drums, or gleefully gnaw his kazoo?


Does precious Poppy know how to write her name, or does she act like she's in the witness protection program each time you call her?


Do refusals to let tiny Charlie build a fort in the oven lead to utter meltdown or a calm nod and change of plans?

With Test Your Toddler's IQ, discover more about your own tiny dictator with a series of fun tests and activities to confirm whether your toddler really is an undiscovered genius.
About the Author
Rachel Federman is the author of Test Your Baby's IQ, Test Your Dog's IQ, Test Your Dog's IQ: Genius Edition, Gross-o-pedia, and Girl Drinks: 101 Cocktails for Every Occasion. She worked for years as an editor and writer by day and a rock musician by night. She lives in Brooklyn with her family (including her dog Skye) and is a freelance writer and advocate.

Ellen T. Crenshaw is a California-based illustrator for editorial, advertising, comics, and children's media. Her clients include FableVision Studios, The Nib, Beer Advocate Magazine, and Fulcrum Publishing. Ellen is online at etcillustration.com.