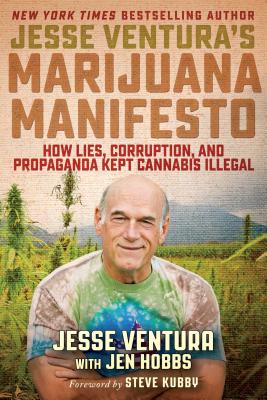 Jesse Ventura's Marijuana Manifesto (Paperback)
How Lies, Corruption, and Propaganda Kept Cannabis Illegal
Skyhorse, 9781510723764, 316pp.
Publication Date: September 12, 2017
Other Editions of This Title:
Compact Disc (9/6/2016)
MP3 CD (9/6/2016)
Hardcover (9/6/2016)
* Individual store prices may vary.
Description
In this groundbreaking book – for the first time in paperback and fully-updated with all the latest legal information - outspoken freethinker Jesse Ventura lays out his philosophy. Now more than ever before, our country needs full legalization of medical/recreational marijuana and hemp. Seemingly with every day that goes by we find out more positive things about marijuana, a medicinal plant in abundant supply, yet legalization finds stronger resistance from government agencies and big business. Find out why the US government patented CBD and what Big Pharma companies have exclusive rights to create marijuana medication and why the DEA can't be trusted. Jesse Ventura's Marijuana Manifesto calls for an end to the War on Drugs. Legalizing marijuana will serve to rejuvenate our pathetic economy and just might make people a little happier. Ventura's book will show us all how we can take our country back. "More celebs than ever are jumping on the 'Legalize' bandwagon. Why? Because it's safe now. It won't impact your career anymore. But Jesse Ventura has been a solid proponent of legal cannabis for decades. In Jesse Ventura's Marijuana Manifesto, he lays out the good sense of legalization, as well as the sheer insanity of prohibition. As a proud American, he pulls no punches calling out the political elite. - Dan Skye, High Times editor-in-chief "Ventura is ultimately quite convincing about the ineffectuality of the War on Drugs, and on the contradictions and corruptions of the Drug Enforcement Administration, a particular bugbear of his." - Michael Lindgren, The Washington Post
About the Author
Jesse Ventura is the former independent governor of Minnesota. He is also a former US Navy frogman, a professional wrestler, a movie actor, a visiting fellow at Harvard Kennedy School of Government, and the New York Times bestselling author of seven books, including American Conspiracies, 63 Documents the Government Doesn't Want You to Read, and Don't Start the Revolution Without Me! He was the host and executive producer of truTV's Conspiracy Theory with Jesse Ventura, which won the Stony Award from High Times magazine in 2010. He was also the host of the political talk show Off The Grid, which aired on RT America and online at Ora.tv. He has a reputation as a rebel and a freethinker, and he has no qualms about questioning authority. He spends half the year in Baja, Mexico and the other half in his home state of Minnesota.

Jen Hobbs has been a publicity consultant for the greater part of her career, representing Oscar and Emmy award-winning clients as well as politicians and authors. She has worked behind-the-scenes with Jesse Ventura since 2007 and shares his enthusiasm for searching for the truth, no matter where it leads. In 2016, she co-authored Jesse Ventura's Marijuana Manifesto, which inspired the content for this book. After visiting and living in several states and countries, Hobbs now resides in O'Fallon, Missouri with her husband, Andrew, and daughter, McKayla, and currently employs her artistic talents through her art and custom jewelry company Hobbs Superior Handmade Supply.
Praise For Jesse Ventura's Marijuana Manifesto: How Lies, Corruption, and Propaganda Kept Cannabis Illegal…
"More celebs than ever are jumping on the 'Legalize' bandwagon. Why? Because it's safe now. It won't impact your career anymore. But Jesse Ventura has been a solid proponent of legal cannabis for decades. In Jesse Ventura's Marijuana Manifesto, he lays out the good sense of legalization, as well as the sheer insanity of prohibition. As a proud American, he pulls no punches calling out the political elite."—DAN SKYE, High Times magazine editor-in-chief "As an ex-governor of a Midwestern state as well as an ex-Navy SEAL, Vietnam War veteran who currently lives in a solar-powered, off-the-grid location on the Baja Peninsula, Mr. Ventura is in quite the unique position to weigh in on ending the fruitless 'War on Drugs' and the legalization of cannabis in the United States. In Jesse Ventura's Marijuana Manifesto, he lays out in a common sense, well-researched, and well-meant point of view. I'm in. HENRY ROLLINS, activist, rock star, media personality "If people really knew the history of marijuana prohibition laws, they would demand repeal. In other words, read Jesse Ventura's book!"—JUDGE JAMES P. GRAY, former Superior Court judge of Orange County, and 2012 Libertarian Party vice presidential nominee "An up-to-date and well-researched pro-pot polemical that, like the former Governor himself, delves into areas that most conventional media outlets, commentator, and politicians shy away from. Ventura is both praiseful and critical of the emerging cannabis industry, its lobbyists, and the types of legal and cultural precedents these changes are currently having on the nation and world. There are a multitude of well-published books today regarding cooking with cannabis, cultivating it, medicinal use, and even adult cannabis coloring books, but for serious readers looking for a more substantive political discussion about America's changing cannabis laws, Jesse Ventura's Marijuana Manifesto will not disappoint."—ALLEN ST. PIERRE, executive director of NORML "Ventura is ultimately quite convincing about the ineffectuality of the War on Drugs, and on the contradictions and corruptions of the Drug Enforcement Administration, a particular bugbear of his." - Michael Lindgren, The Washington Post